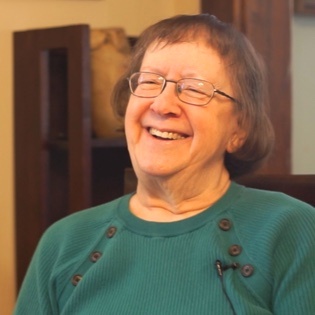 "I wish I could take my home with me," Lilly said. Lilly was homebuyer number one for Twin Cities Habitat for Humanity back in 1986. She, and her three teenaged daughters had moved a lot and shared a small two-bedroom apartment before she bought the home in Minneapolis. "Moving so much was hard on them," she said, "and I didn't want to do that to them anymore."
Seated at a chair in her dining room, Lilly thoughtfully looked around. "We'd never been able to put down roots before, but that changed when I bought this house. The girls really bloomed here." Lilly will soon be moving on from her home, giving another Habitat family a chance to build their own memories in the house.
"I loved all the stained woodwork and high ceilings," she said. "This house had a lot of character. It reminded me of the farm house I grew up in and I knew I wanted it."
In 1986, Lilly was volunteering with her church in the Ventura Village area of South Minneapolis when another volunteer suggested she apply to buy a Habitat house. "Why would I get the house?" she asked. "There are plenty of other people who need it even more than I do." She put in her application anyway and was surprised when she was told she was going to be the first homebuyer for the newly formed Twin Cities Habitat for Humanity.
"I was so excited," Lilly said. "The house had a big side yard where I knew the kids could play. And there was room for gardens!" Today, maintaining the yard is difficult for Lilly. "Neighbors used to stop by when I was out working in the yard and say, 'Nice gardens.'" She shakes her head. "I haven't been able to garden for a number of years. I just can't do that work anymore."
Lilly lights up when she tells stories about her family's time in the house. "The girls made friends at school. We'd moved around too much to be able to connect to people before. But after we moved into the house, they had friends over regularly."
"If you look under the carpet up stairs, you'll see their hand prints," Lilly said. "The three of them dipped their hands in paint and left their hand prints on the wood." She laughs. "The girls really want me to take the hand prints with me, but can't do that!"
Occupational therapy is what Lilly did for a living, but she was an artist at heart. During her time in the home Lilly took up spinning yarn, working a loom, and creating fabric art. Her daughters took after her. She shows off sculptures and paintings and photography created by them. "Before we moved in here we didn't have room for doing any of this, or any place to put it if we had."
Health issues forced Lilly to retire a couple of years ago, a few years ahead of her plan. The issues have also made it hard for her to do maintenance work around the house. Her fixed income also means she can't afford to hire someone to do the work for her. She finally made the decision it was time to sell. She is currently on the waiting list for a senior living center where a number of her friends have retired.
Once she has her spot secured, she will be selling her home back to Twin Cities Habitat for Humanity. "I didn't want to just sell it on the open market," she said. "I decided to sell it back to Habitat because I wanted some other family to have the same great experience I had."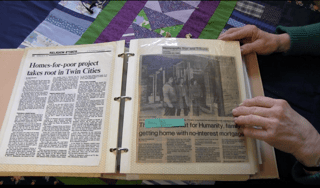 Opened on her table was a scrap book containing 30 years of newspapers articles, school projects and family photos. It is her biography of a family growing up, and together, in their home. "The Habitat people were so wonderful to my girls and me. They were there when I needed them, and they've kept in touch over the years." She laughs. "I guess I should have expected some of the attention, being homebuyer number one."
"I can't keep this house up anymore," she said. "I have a lot of friends in the new complex, and I'm looking forward to being close to them." She flips through the pages of the scrap book. "I've got a lot of memories here, but now it's time for another family to get a home of their own so they can start building their own memories."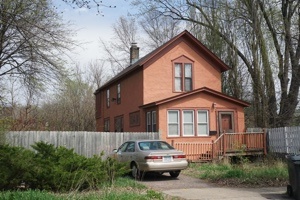 She looks around again. "I hope they don't change the character of the house too much. I can feel the warmth in this house. It's almost like people have been here and they've warmed up the house. All those people are part of the house and when another family moves in, they'll experience all that warmth, too."
Once Lilly has moved into her new home, Twin Cities Habitat for Humanity will buy her home back. Work crews will go through the house and rehab it. By the time a new family moves in, the home will be thoroughly updated and brought up to call current standards and codes. Habitat will work to maintain the beauty and character of the home while ensuring the new owners will have essentially a new house.
Twin Cities Habitat for Humanity believes every family deserves a decent place to live. Building opportunities for those families only happens when people like you step forward to donate and volunteer. Visit our donation and volunteer pages to learn what you can do.