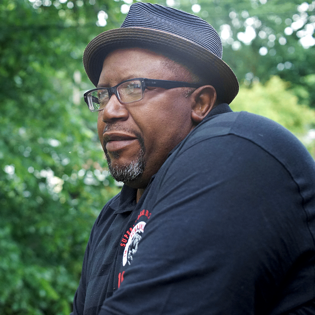 Andre Tellis wanted to give back to his community when he served six years in the United States Army. On June 25 of this year, our community gave back to Andre when he and his wife Stephanie got the key for their new home.
The journey to a new home was not an easy one for Andre and Stephanie. Andre has had to deal with knee disabilities that made his old career as an electrical cable puller impossible to do. The pair also had to fight through the despair of homelessness. They've fought their way back and have both recently completed degree programs in Human Services. The journey came full circle when they got the keys to their new home.
Most Habitat homes are new construction, but Andre's is a complete rehab of a 1961 split-level. The home is on a beautiful tree-lined street in Minneapolis near the border with Brooklyn Park. The interior of the house looks new. Its hardwood floors have been refinished to a gleaming shine and the kitchen has been remodeled into a compact, but very user-friendly, space. Overlooking the fenced backyard is a deck that stretches across the rear of the home.
The Home Depot Foundation funded most of the work as a way of saying thank you to all veterans for their service. The foundation gave Twin Cities Habitat a $200,000 grant as part of its nationwide commitment to improving the homes and lives of U.S. military veterans and their families. Volunteers from Team Depot also helped Habitat's A Brush With Kindness home repair program paint the home of a Retired Army Veteran in St. Paul during the National Day of Service on Thursday, September 11.
As Andre, Stephanie, and her son Anthony walked through the house prior to closing, they chatted about what would go where and what life in the new house would be like. They kept pausing in wonder that this was their house. They frequently stopped to thank Twin Cities Habitat for Humanity and the hundreds of volunteers for all the work they did on the house. They were particularly effusive in their praise of Tony Beckstrom, Habitat Site Supervisor for the house, Ashley Rose, the AmeriCorps member who served with Tony, as well as Alex Schueller and Rosalind Bakion, two AmeriCorps members who served as the Veterans Initiative Outreach Coordinators with Habitat.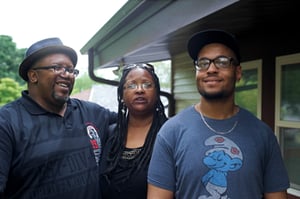 The house was originally supposed to be for Andre, his wife Stephanie, her son, and her mother. Mama Brown, as they called her, had worked hard at the Habitat ReStore to help Andre and Stephanie get in their sweat equity, but she passed away in April. Andre and Stephanie wish that she'd lived long enough to enjoy the house and got a bit emotional talking about her. "She would have loved living here," Andre said. "At least she had the chance to work on and see the house while it was being redone."
"She liked thinking about us all living in the house together," Stephanie added.
Standing on the deck, Andre talked about the generations of soldiers in his family. Andre's father served in the Air Force during the Korean war. His grandfather fought in the battle of Anzio, Italy in World War II. "He was one of the Buffalo Soldiers," Andre said. (The Buffalo Soldiers, a segregated unit, was the only African American infantry division to see combat in Europe during World War II, as part of the 5th Army.)
"It was one of the big battles of World War II," Andre said. The Germans kept the Allies stuck on the beach for weeks at Anzio, pounding them with artillery, before they were able to break through German lines.
"After a little research, I found that my great-great grandfather had served with the Union Army during the Civil War. He was a Native American [in the army], which was unusual at the time, but he still served."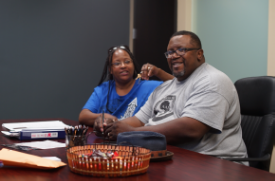 Andre, Stephanie, and Anthony plan on continuing their commitment to give back to the community. Stephanie and her son have recently completed associate's degrees in Human Services and Andre has completed his bachelor's degree, also in Human Services. Andre is now pursuing a Master's in Nonprofit Management and Anthony has already started on his third year to complete his bachelor's degree in Human Services.
It was an article in the paper 18 months ago announcing a homeownership exploratory session at Shiloh Church that got Andre and Stephanie involved with Habitat, and eventually led to them purchasing a Habitat home. Andre saw it and told Stephanie they should go. Both came away from the session thinking they just might be able to do the program and get a home of their own.
Andre and three generations before him served to protect the American Dream, and now that they have a Habitat home, he and Stephanie are finally going to able to start living it.
It takes financial support and volunteers to enable Habitat for Humanity to fulfill its mission. The grant from the Home Depot Foundation, donations from other companies, and hundreds of volunteers made Andre's home become a reality. We invite you to consider signing up to volunteer, and to enroll in the Carpenter's Club by pledging to make monthly donations. Your support will allow Habitat to continue helping vets like Andre.