Rejoice savvy bargain hunters! A Twin Cities Habitat for Humanity ReStore will open later this summer in South Minneapolis at 2700 Minnehaha Avenue. The ReStore is a home improvement outlet that sells donated new and used building materials to the public at deep discounts.
It's the perfect place to start any DIY project, find unique craft ideas, or score a great deal on something you need for a rental property. Many customers sign up for the Hot Deals email to be the first to know what's on sale.

"We are excited to add to the growing hub of reuse and repurpose-minded retailers that have congregated within this part of town, transforming it into the Minnehaha Mile Shopping District," says Pete O'Keefe, ReStore Operations Senior Manager. "We wanted a location that was easy to find and easy to get to. We need plenty of parking and a building that will make for a great shopping and donating experience. I think we found it."
The new ReStore will be accessible from Highway 55 (Hiawatha Avenue), the Blue Line light-rail train, Metro Transit bus routes 21 and 7, and the Midtown Greenway Bike Path. If you can visualize the Martin Olav Sabo bike bridge over Hiawatha-Hwy 55, the store will be just SE of this landmark and directly behind the gold aluminum mesh wrap of the Xcel Energy substation. Here's a mock-up of the new storefront and an aerial view of the building.

Jill Carmody, who manages the ReStore New Brighton says "I am excited to work in the Longfellow Neighborhood, it has done a great job creating a retail upcycling environment known as the Minnehaha Mile. We will be able to provide the community with a place to buy quality building materials to improve their home and a place to bring their project leftovers and support Habitat for Humanity's mission."

Jill has been a big part of the growing success at the ReStore New Brighton which is located at 510 County Road D West. Sales have surged there in recent years.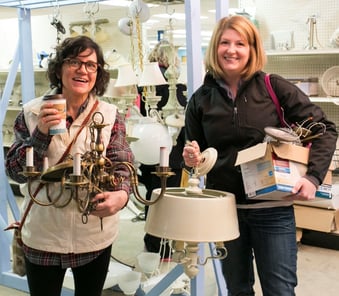 Many shoppers checkout the ReStore on a regular basis because new items are always coming in and the deals are so good that nothing stays in the store too long. The current ReStore in New Brighton is open Tuesday through Friday from 10am to 6pm and Saturdays from 10am to 4pm. The ReStore is closed Sundays and Mondays.
Donate
Items come into the ReStore in many different ways. Businesses have ongoing relationships where they donate unsold or overstocked items. Builders, renovators, and demolishers regularly donate unused or re-usable materials. You can schedule a pick-up of your item or bring it to the store. Donations to the ReStore are tax deductible. Plus, it's a smart way to keep usable things from getting tossed into landfills. Some of the top items donate include:
Doors (exterior and interior)
Appliances <10 years old and clean
Ceramic tile
Laminate, wood and vinyl flooring
Cabinets
Lighting
Wood furniture & home decor
Tools
Plumbing
Volunteer
Volunteering at the ReStore is fun and easy. The ReStore relies on volunteers as much as it can to maximize its financial impact for Habitat's mission. Volunteers work every day in the ReStore doing things like process donations, moving inventory, pricing items, assisting customers, and running registers. Professionals with special expertise in retail also volunteer with the ReStore as pro bono consultants.