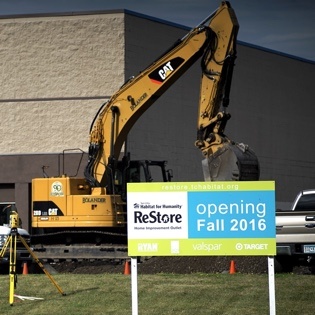 Twin Cities businesses have stepped forward with pro bono labor and gifts-in-kind, as construction starts for Twin Cities Habitat for Humanity's new ReStore in South Minneapolis. Located at 2700 Minnehaha Avenue, this is Habitat's second ReStore in the Twin Cities (the original store is located in New Brighton).
The store, a discount home improvement outlet, is slated to open to the public in mid-September. "We're excited about the new ReStore," says Susan Haigh, President & CEO of Twin Cities Habitat. "ReStore is good for the environment and good for families. Earned income from ReStores helps Habitat build more homes with affordable mortgages that low-income families can buy."
With donated labor, Bolander and Sons brought in their heavy equipment to start tearing out the old parking lot on July 19th. This first step in construction will expand parking to accommodate 75 vehicles and a dedicated drive up donations door.
Inside, deconstruction of old offices has been completed and construction on the new retail space is underway. The new ReStore will have 23,000 square feet of retail and storeroom space. There will be a boutique area near the front of the store that will showcase furniture, lighting, cabinets and appliances. The rear of the store will feature building materials, flooring, plumbing, overflow cabinets, and more. "The goal was to design a store that gave customers the best shopping experience of any ReStore in the country," said Pete O'Keefe, ReStore's Senior Operations Manager.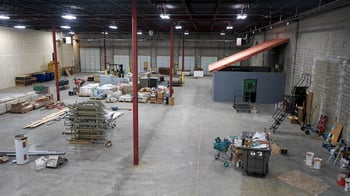 O'Keefe added, "Another goal is to create new partnerships with the business community that will keep Habitat's cost of construction to a minimum." He noted the generosity of ReStore's construction partners. "Construction partners have had a huge impact on bringing the store to fruition and at no cost to Habitat's core funding."
The growing list of partners includes Valspar, Westwood, Liesch, Muska Electric, Braun Intertec, Horwitz Inc., Olympic Companies, Bituminous Roadways, Carl Bolander & Sons Co., Escape Fire Protection, Able Fence Inc., Twin City Garage Door, Swanson & Youngdale, United Glass, Bishop Fixtures, Gardeneer Landscaping, Donald R. Frantz and Siewert Cabinets. Ryan Companies is overseeing construction management, with RSP Architects performing project design work. ALL construction partners are contributing significantly via gift-in-kind or pro bono labor.
Every product for sale at ReStore has been donated by local individuals, businesses, builders and remodelers, and manufacturers. The items are then sold at 50%-70% off regular retail prices. All proceeds from ReStores go to support Habitat's mission. Last fiscal year, ReStore earned enough to be the primary sponsors of six Habitat homes.
ReStore's emphasis on reusing, recycling and repurposing unneeded building and household products, makes it a good addition to the Minnehaha Mile Shopping District. The District includes several stores that feature environmentally friendly repurposed items for sale to the public.
Opening a ReStore in South Minneapolis, at 2700 Minnehaha Avenue, three blocks north of Lake Street, will make shopping at, donating to, or volunteering at ReStore more convenient for families living in the South, Southeast, or Southwest areas of the Metro. The goal is to introduce new people and groups to the work of Twin Cities Habitat and to double the number of homes ReStore can fund for Habitat.
It's easy for you to help ReStore have an even greater impact, just shop, donate and volunteer.