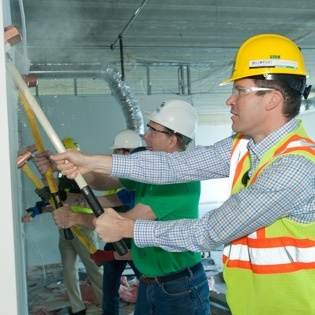 On Friday, May 20th, Twin Cities Habitat for Humanity held a groundbreaking ceremony to kick-off construction of Habitat's newest ReStore. Gold-painted sledgehammers were used to knock down drywall. The new store, located at 2700 Minnehaha Avenue South, is slated to open in early fall of 2016. It will be the latest retail outlet focusing on reuse and recycling in the area popularly known as the Minnehaha Mile.
Other stores in the area focus on vintage clothing, jewelry, furniture or decor. ReStore will add to this mix with its focus on new and gently used building materials, appliances, cabinets, flooring, lighting, plumbing, and hardware.
Opening a second location in South Minneapolis will make shopping at, donating to, or volunteering at ReStore more convenient for a whole new part of the Twin Cities. In addition to South Minneapolis, the new store's location will be convenient to all the Southern and Southwestern suburbs, including communities South of the Minnesota River. It will also be easier to get to for people living in many St. Paul neighborhoods as well. The goal is to introduce new people and groups to the work of Twin Cities Habitat and to double the number of homes ReStore can fund for Twin Cities Habitat.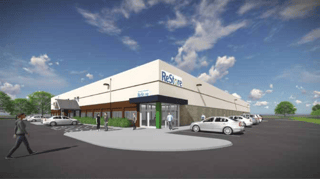 Twin Cities Habitat currently operates a ReStore at 510 County Road D in New Brighton, one block West of 35W. Last fiscal year Twin Cities Habitat ReStore earned enough income to be the primary construction partners for five new Habitat homes. They are on a pace to sponsor six homes this fiscal year.
ReStore relies on donations and we're very thankful to all of the construction partners helping build out the new location (much of it on a pro-bono basis): Ryan Companies, RSP Architects, Valspar, and Target.