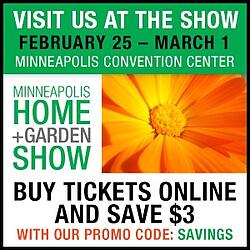 Twin Cities Habitat for Humanity and ReStore return to the Minneapolis Home & Garden Show February 25 to March 1st at the Minneapolis Convention Center.
Martin Egli, the new General Manager of the Show, has invited Twin Cities Habitat for Humanity and the ReStore to form a new partnership with the Minneapolis Home & Garden Show. Egli, who took over the Minneapolis show late last fall, ran the Calgary Home & Garden Show for ten years, all of them featuring a strong presence by Habitat and the ReStore. "We loved having Habitat in the show," he said, "There's a natural affinity between our show's visitors and Habitat, and our visitors love discovering how the ReStore can help them save money on home projects while doing good in the community."
The show coincides with a new campaign for Habitat, and a Grand Reopening for the newly refreshed ReStore.
Take 5 / Give 10 is a new initiative that invites people to pledge to Take 5 minutes to learn more about volunteer opportunities, and Give $10 to support Twin Cities Habitat's mission. The purpose is to give community member an easy way to explore what it's like to be a Habitat volunteer and learn how their gifts can make a real difference for local families.
The ReStore was recently closed for a week of remerchandising and freshening, and will celebrate its Grand Reopening at the Home and Garden Show, and at a special ReStore event on March 7th.
Volunteers Needed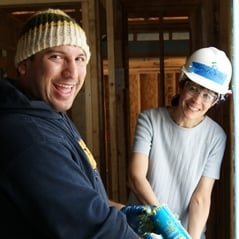 With the Home & Garden Show running five days, there is the opportunity for 30-50 outgoing and energetic volunteers to share their love of Twin Cities Habitat and ReStore at our booth. (Volunteering includes free admission to the show!)
You don't need to be an expert on Twin Cities Habitat or the ReStore to volunteer; all you need is enthusiasm for our mission, willingness to talk to show visitors about your volunteer experiences at Habitat or the ReStore, and be comfortable encouraging them to signup to learn more.
We are looking for volunteers to help out for one (or more) three-hour shifts in the booth. "All work and no play make Jack a dull boy," the saying goes, and we want to make the show fun for all. There will be lots of time for volunteers to play and explore the entire Home & Garden Show before or after their shifts.
If you've never volunteered or worked at a show like this, you are in for a treat. It is fun and energizing to talk with people about something they are interested in, and that you know and care about. The volunteer's job is easy and enjoyable at the show, but it is also critical to the show's success. We can't be effective at the show without lots of volunteers.
If you are interested in signing up, simply follow the link below and pick out the shift (or shifts) you are available. DON'T WAIT, DO IT NOW!