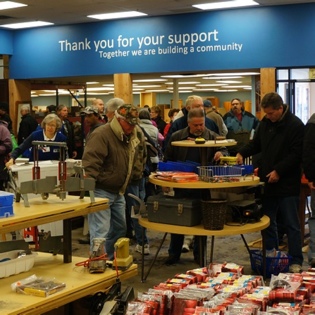 With the holidays fast approaching, it's a great time to try something new, like checking out the first time ever Twin Cities Habitat ReStore booth and Pop-Up store at the Midwest Home Show. The show runs November 14th thru 16th at the Minneapolis Convention Center. We want to make sure the show is worth your time to visit our booth, so we've assembled over 200 grabs bags packed with products worth anywhere from $30 to $100, and we're selling them for only $3! (The bags will include items like How-to books, safety glasses, safety vests and gloves, dimmer switches, dew rags, triple plugs, and ReStore punch cards worth between $10 and $100 – all items everybody can use. Some will include )
When you come to the show, expect to see something special. The ReStore at the Home Show is not a typical small booth, it's a 120 feet long! What's more, we won't just be showing our wares, everything in the booth will be for sale, (Friday is preview day, with all products for sale on Saturday and Sunday).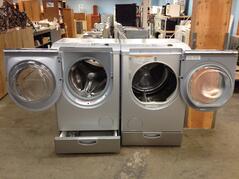 We've been saving special items for weeks, so you'll find great items at great prices. We have Hot Deals on new saws, faucets and lighting fixtures. We've set aside a near new pedestal washer and dryer, refrigerator, new in the box 2 ton air conditioner, a wide array of lighting, furniture, cabinets, tools, fasteners, sinks and much more. We'll even be selling the cool display cabinets we'll have at the show.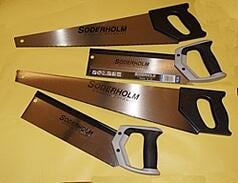 If you're a fan of the ReStore, our Pop-Up store at the Midwest Home Show will be a great opportunity for you to find cool products, get great deals, and introduce your family and friends to the best home improvement values in the Twin Cities. If you've never been to the ReStore, the show is an ideal opportunity for you to see what sort of treasures you can discover at the ReStore and to meet some of our helpful and friendly staff and volunteers. We'll have volunteers on hand who can also talk to you about to get involved Twin Cities Habitat for Humanity.
While we feel the coolest booth at the Home Show will be the ReStore, there will be over 120 exhibitors featuring everything you need for your house. In addition, there will be an opportunity to get a free appraisal on your antiques, get a design consultation on your interior projects, enter the Ugly Closet contest, learn about home brewing, and discover some of the best places in the Twin Cities for kids' entertainment.
What are you going to do when the Midwest Home Show comes? Put it on your calendar to visit the ReStore Pop-Up booth, and remember to buy a grab bag – the best deal at the show!