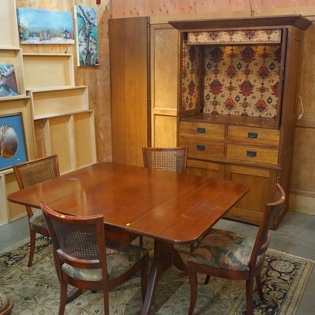 Where can you go to save money, have fun, learn something new, and do something good for Earth Day? The Twin Cities Habitat for Humanity ReStore.
Everybody loves saving money and on Earth Day, April 22nd, you'll be able to save 22% on all your purchases at the ReStore. Find just what you need for your home projects, save money, and make a difference. The proceeds from all your purchases helps Habitat build more affordable homes for low-income families. By the way, every home built by Twin Cities Habitat is built to LEED Silver standards. (That means our homes are earth friendly, too.)
The staff at the ReStore know how to make Earth Day fun with creative DIY projects. These projects are easy and add great personality to your home or garden. These projects won't bust your budget and their environmental wise. Using materials from the ReStore, is another way to keep hundreds of tons of usable items out of the landfill.
Here are a few DIY ideas you might try:
To become a DIY star, all you need is a little imagination and a trip to the ReStore. Our staff will make sure you have all the right components to build all of the projects above. We're also happy to share tips for bringing your own DIY project ideas to life.
Before you come to the ReStore, take a few minutes to go through your garage and attic. Look for unneeded but usable cabinets, tools, building materials, lighting, hardware, furniture, flooring, or plumbing supplies. Then bring your unneeded treasures to the ReStore. We will reuse, repurpose, recycle or resell your donations. You might get a nice tax deduction and the proceeds all go to help Habitat build more homes. You'll be making room in your home and doing something good for the environment.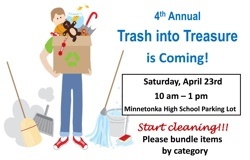 The ReStore isn't just a great place to visit for Earth Day, we go out into the community when we can. We'll be out in Minnetonka on Saturday, April 23rd, for the fourth annual Trash to Treasure event in the parking lot of Minnetonka High School from 10 am to 1 pm. We're partnering with students from the high school, middle school and elementary students, Boy Scouts, Girl Scouts, Brownies, and other community groups. Facilitated by www.TonkaGreen.org, we will be collecting unneeded items that can be recycled, repurposed or reused. It's going to be fun and have a positive impact.
We have something else to celebrate this Earth Day – the coming of a second ReStore in South Minneapolis. The New Brighton ReStore has been so successful at being environmentally friendly and earning the money needed to build more houses, we've decided to open a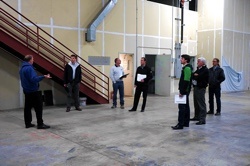 second store. We're working hard on planning for the new store with our partners at Ryan Companies, RSP Architects, Valspar, Target and more. With their help, we'll be opening the store at 2700 Minnehaha Avenue South in Minneapolis early this fall. That means we'll be able to take even more donations, sell more stuff, and keep more products out of landfills.
The new store will be located in a part of town that is known for organizations promoting the reuse and recycling of building materials. And it's near Minnehaha Mile Shopping District boutiques that sell vintage clothes, antiques, and repurposed goodies.
At the ReStore, we try to make every day Earth Day as well as a day for helping Habitat build more homes.
Shop. Donate. Volunteer. Make the ReStore your fun place to celebrate Earth Day, and every day! To learn more, visit restore.tchabitat.org.