When Susan donated her beautiful white kitchen to the ReStore, she wasn't sure what to expect.
"We heard about ReStore from my sister who had stopped in and found it to be an excellent value on building materials and raved about it," Susan shared. "We had a couple different options, try to sell ourselves, or donate. Our time frame on our remodel was escalated and very limited—although we had never donated to the ReStore before, this was actually the better route to go as the proceeds go to an excellent cause!"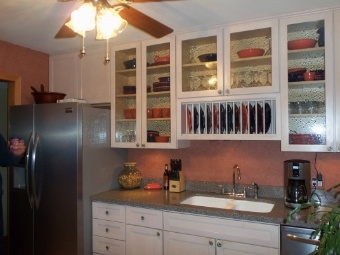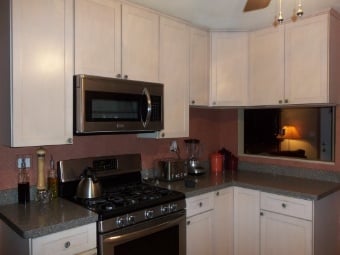 The Twin Cities Habitat for Humanity ReStore accepts donations from individuals, building supply stores, contractors, home builders, interior designers and local Twin Cities businesses. Common items donated to the store include home improvement materials, such as: doors, windows, lighting, plumbing materials, flooring, hardware, tools, cabinets, furniture and appliances. Items are then priced and sold at the store, with proceeds going to support the Twin Cities Habitat for Humanity mission. In fact, last year's total helped to fund three Habitat homes!
"Our donation experience was great!" Susan said. "I found just in dealing with Marilyn Paulos, the ReStore's Donations Coordinator, an excellent and responsive lady, a pleasure. We have some common ground on where family resides, and as far as the scheduling and pick up - all was seamless."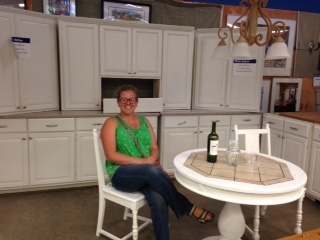 And, and like many items donated to the ReStore, Susan's white kitchen did not stay on the sales floor for long!
Krista (pictured left) has been a ReStore shopper since 2007, and initially stumbled across the store by accident.
"I think I found it while I was driving around on my lunch break!" Krista said. "When I first walked in I felt like I found the Holy Grail of Thrift Shops. That day, I found three windows for our house remodel project. Those windows would have been triple the amount in the store!"
Krista saw the white kitchen on the sales floor and immediately knew it would be the perfect set for her addition project. Combined with her love for repurposing and the unbeatable savings, Krista took the set home, and is excited for to get to the point in her project where the cabinets will be installed.
The ReStore team is quick to note that it is support from their loyal customers like Krista and generous donors like Susan, that they are able to continue to support local Twin Cities Habitat for Humanity partner families. When asked about making any future tax-deductible donations to the ReStore, Susan said, "I would absolutely donate to ReStore again and do not hesitate to refer friends and family there to donate, or purchase to help raise funds for Habitat for Humanity!"
Considering making a donation to the ReStore? Items can be dropped off at the 510 County Rd D West location in New Brighton Tues - Friday: 10 a.m. to 5 p.m., and on Saturdays: 10 a.m. to 3 p.m. If you're unable to make it to the store, or you have larger items to donate, you can also request a pick up. Click here to view a full list of items the ReStore accepts for donation.