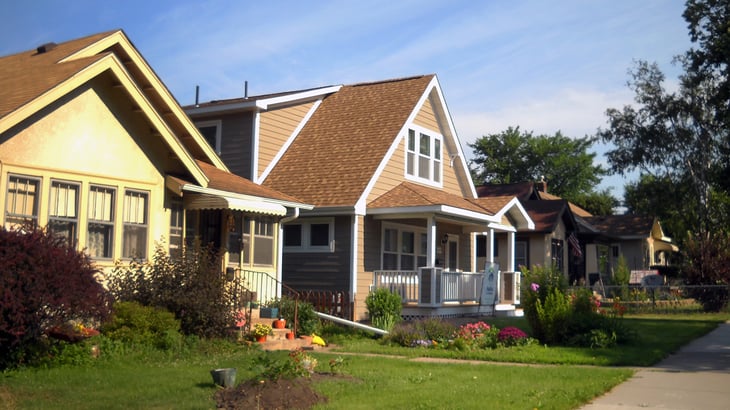 This weekend, Twin Cities Habitat for Humanity will host an open house as part of the Minneapolis & Saint Paul Home Tour. Stop by the home in the Jordan neighborhood in North Minneapolis for a unique opportunity to see a fully-constructed, brand-new Habitat home complete with furniture from our ReStore Home Improvement Outlets.
When
Saturday, April 28 from 10:00 a.m. to 5:00 p.m.
Sunday, April 29 from 1:00 to 5:00 p.m.
Where
2819 Knox Avenue N., Minneapolis, MN 55411
What
Visitors like you can tour the Habitat home, browse the many items on display from the ReStore, and meet Habitat staff. At the home, you can find information about Habitat's Homeownership Program, affordable mortgage product, A Brush with Kindness Paint and Repair program, Neighborhood Revitalization program, and ReStore.
At the open house, you'll see items from our ReStore outlets, including a dining room set, couches and chairs, bedroom furniture, and plenty of home décor.
A local family has already partnered with Habitat to buy the featured home. In the coming weeks, the homebuyers will close on the property and prepare to move into their new home!
Twin Cities Habitat has several other new or rehabbed homes available across the entire seven-county metro area. In addition, households now have the option to buy a home for sale on the open market using Habitat's affordable mortgage, originated by a new wholly-owned subsidiary, TCHFH Lending, Inc.
Habitat's Homeownership Program has changed quite a bit in the last year, so check out what's new and different, then click the link below to see if buying with Habitat might be right for you.
How
The entire Home Tour is free and open to the public. You can use the downloadable guide to plan your journey to any or all of the 26 properties involved.
Let your friends know you'll attend the open house—click 'going' on our Facebook event.
About the Home Tour
The Minneapolis & Saint Paul Home Tour is an annual event that promotes city living. The tour brings thousands of home enthusiasts together for a weekend of sharing home remodeling ideas. The tour is sponsored by the Planning and Economic Development departments of both cities, local financial institutions, developers, contractors, and other businesses. The home tour's most important partners, of course, are the homeowners who volunteer to open their homes. The tour is a free and self-guided event.