This summer, Twin Cities Habitat is rolling out two exciting new volunteer opportunities! Both are non-construction volunteer roles. They provide new ways to get involved with our organization, and share our mission with our community. If you're especially interested in helping out during the evenings and/or weekends, one of these new roles might be for you!
Open House Hosts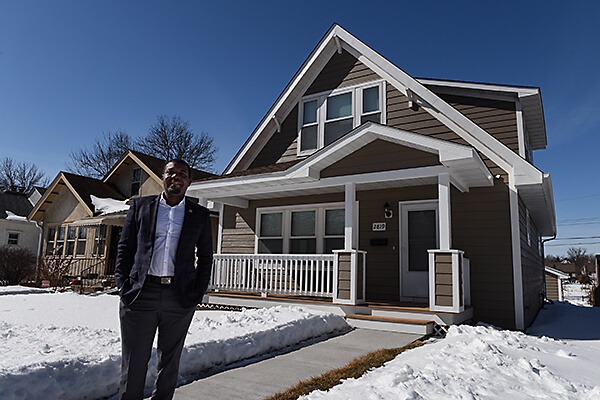 Open House Hosts oversee open house events for Habitat homebuyers. This allows homebuyers to view homes that have had rehab work performed by Twin Cities Habitat before selecting which homes they are interested in purchasing. Because these are not Habitat-built homes, families may not be as familiar with the layout, design, and other features. Open houses give families the opportunity to view these homes in-person so they have as much information as possible in making this very important decision!
Volunteers will be trained by our Homeowner Development team. Hosts will open up the home before the event, answer homebuyers' questions (or direct them to the appropriate member of Habitat's staff), and then tidy up and secure the home at the end of the event. Each event will last approximately 2-3 hours. An Open House Hosts' main role is to act as a welcoming presence for our partner families as they complete the final leg of their journey to homeownership.
ReStore Street Team
Members of the Twin Cities Habitat for Humanity ReStore "Street Team" will help with our efforts to share information about the Minneapolis ReStore with local residents from the surrounding neighborhoods. We want to get to know our neighbors, and encourage them to shop, volunteer, and donate at the ReStore! Last year, our Twin Cities Habitat ReStore locations brought in enough money to help build six Habitat homes, and we're excited to keep growing.
Street team volunteers can participate in groups or two-person teams, and will cover smaller segments of the neighborhood over the course of two- to three-hour shifts on Saturdays throughout the summer. This is a great chance to get outside and enjoy the weather, spend time with friends and get your steps in on a weekend, all while supporting the Minneapolis ReStore!
express interest
For more information, or to get involved, fill out the form below or contact the Volunteer Coordinator at 612-305-7114 or volunteer@tchabitat.volunteerhub.com