Around this time last year, Twin Cities Habitat for Humanity hosted a home dedication to celebrate four families moving into new homes in Cottage Grove. When volunteers and staff broke ground on those units a year earlier, they commenced a three-year, twelve-unit project in the Mississippi Dunes townhome community. Just last week, we gathered again with homebuyers, staff, volunteers, friends, and family for a dedication to celebrate four new homes in the same neighborhood. Four more homes means four more families and ten more kids have safe, stable housing in the Twin Cities metro area.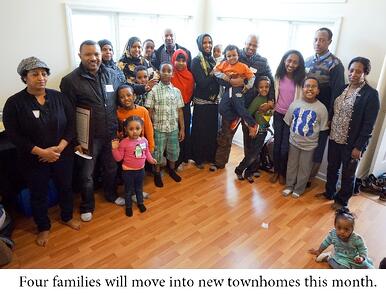 At the event on Thursday, homebuyers had an opportunity to speak about their journeys to homeownership and to recognize the support of Habitat's sponsors and volunteers. Each family expressed immense gratitude for supporters and the overwhelming anticipation of moving day. "I feel grateful and blessed to have worked the last year doing sweat equity. I appreciate the crew and everyone that helped," said Elfinesh, a mother of two who moved to the U.S. from Ethiopia in 2005. While parents spoke, we could hear and feel the children's excitement around us as they played together, picked bedrooms, and explored the new space.
Another homebuyer, Chanyalew, looked overjoyed to be speaking at the dedication of his home. "We will leave happy today. We have a new home, a brand new home that is so great. Before, we lived in an apartment and the kids couldn't be outside very much. Now we are happy that the kids can be outside. Thank you to Habitat for the construction experience and thank you to everyone involved."
Rhonda Thorson, one of the site supervisors for the units, spoke about her time working on the townhouses. She gave a special shout out to the regular crews who worked hard to finish up the homes and to the many volunteers who've worked on site for a day, a week, or more. "Thanks to the families for their patience and trust that we could pull this off… Welcome home!"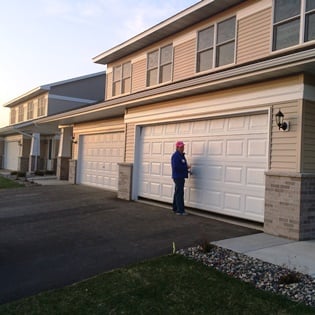 Dan Shapiro, a TCHFH Board Member and 3Mgives regular volunteer, shared in the families' excitement and reflected on his time working on various Habitat build sites two day a week. "We volunteers marvel at the enthusiasm homebuyers bring to the construction process and their desire to learn… We look at children's faces and we see the positive change made by Twin Cities Habitat in building these houses." After thanking Habitat's many partners, staff, and volunteers who made the homes possible, Dan presented each family with a framed Golden Rule to symbolize the inclusive mission of Habitat.
President and CEO of TCHFH, Sue Haigh, recognized the many, many partners involved in the completion of these units and the other buildings in the area, especially Wells Fargo, the Major Sponsor of the townhomes. She thanked the City of Cottage Grove for welcoming our work and for creating a wonderful community in which Habitat families can flourish. Sue acknowledged the support of more than 75 different organizations and congregations who believe in our mission and gave their hearts and hands to these homes. Finally, Sue offered her own warm welcome to the families and thanked them for their partnership. "Thank you for being courageous partners and for saying 'I'm going to build my own home!' I can't wait to see these beautiful kids grow up here and live in this community for their entire lives!"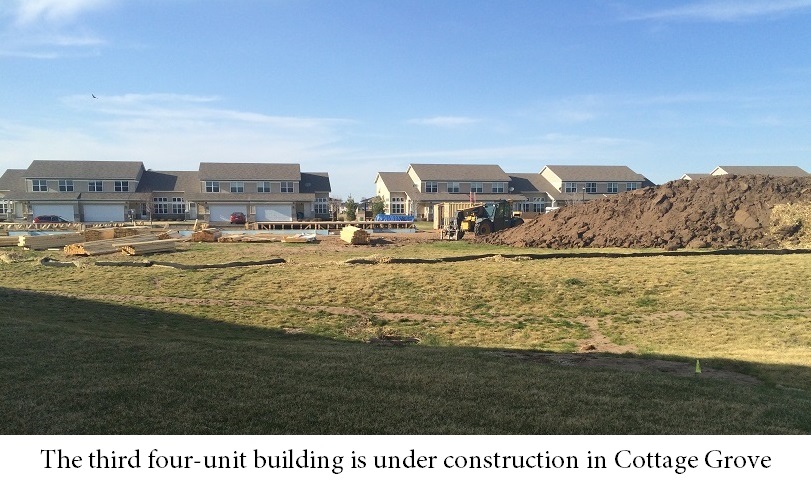 Pastor Jake Kerschner of Crossroads Church closed the dedication with a prayer and perfectly summed up the evening: "When we live and work together, we can build great things!"
See more photos from the dedication on our Flickr.