Last night, Twin Cities Habitat for Humanity hosted a joyous dedication event to celebrate eleven homebuyer families and their new homes! Held at Habitat's new office on University Avenue in St. Paul, the event was the first of its kind and size for the organization. The room was filled with energetic children, eager parents, and numerous volunteers, donors, staff, and supporters.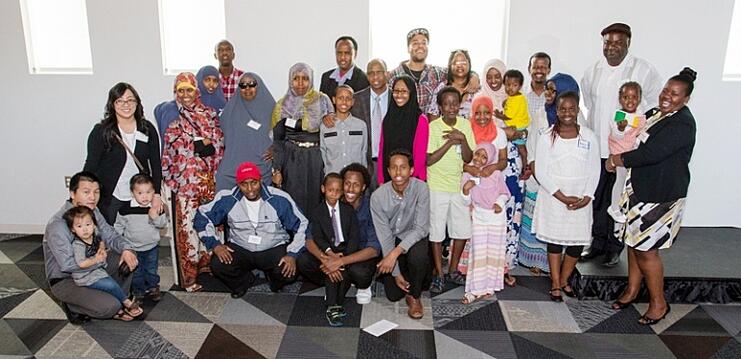 Susie Deshon, a long-time volunteer and the emcee for the event, welcomed the group to Twin Cities Habitat's new home and shared her excitement for this dedication. After an opening prayer from Win Curtiss, a member of the dedications committee, each family was presented with a framed Golden Rule. President and CEO of TCHFH, Sue Haigh, explained that we present this gift to homebuyers as "a reminder of the hundreds of volunteers who worked on homes out of love" and of each family's own sweat equity contributions.
Kim Welch, a Twin Cities Habitat for Humanity board member and Vice President, Communications at Valspar, helped Sue present each family with this gift and with a certificate of the completion of their homeownership training courses.
After each family was introduced, two homebuyers offered remarks of appreciation and excitement. First we heard from Wycliffe Wara, who will move into a home in Brooklyn Park with his wife and two daughters. "Homeownership is a dream come true and a complete game-changer for me and my family," Wycliffe shared as he expressed gratitude to Habitat staff, volunteers, donors, and participants. He felt especially thankful for the homeownership trainings that prepare partner families for homeownership and enable them to be responsible homeowners who will strengthen their neighborhoods. "Owning our own home represents freedom, independence, and the American Dream. It will give us stability and room to play, grow, study, and make new beginnings." In their new home, Wycliffe and his family hope to pursue further education and find better jobs.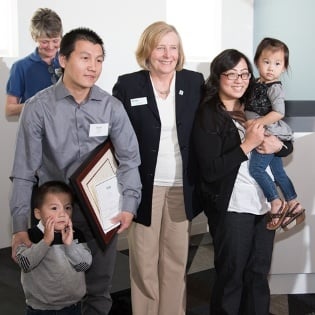 Ia Yang, whose new home is in North Minneapolis, spoke next on behalf of her family (pictured left with Sue Haigh). Speaking through strong emotions, Ia shared her experience with homelessness and 'hidden homelessness' living in tight quarters with family members. After she and Nath had two children, they began to apply to TCHFH. Though the process is challenging and filled with ups and downs, "now we're done and we have a home to share with my family and kids—it's the best thing in the world!"
After the homebuyers spoke, Sue Haigh shared her own remarks with the group and reflected on some impressive numbers: of the 11 families at the dedication, there are 44 children, 4 nieces, 1 cousin, and a few grandparents who will have safe, stable places to call home. Among the homeowners, there are 9 different languages spoken and 5 different countries of origin. At least 12 site supervisors worked with 12 AmeriCorps members to build homes in 6 cities in the metro area. With over 100 volunteer groups working on these homes, there were more than 5,000 volunteer days contributed to these construction projects. "These numbers, along with months of work and the support of many, make our hearts full here at Habitat!"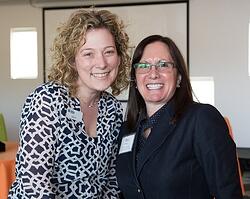 To formally dedicate the homes, Kim Welch (pictured right) led the group in reading the dedication litany. Karin O'Connor, a member of the dedications committee, offered a prayer to close the program and begin the reception. Families, staff, and guests had an opportunity to mingle, share stories, and explore the new building.
This heartwarming dedication event was a wonderful opportunity to recognize our partner families, volunteers, and house sponsors like Cargill and Carlson, and to celebrate the great things we can accomplish when we work together.
In addition to dedicating these new Habitat homes, the event was an opportunity to highlight Habitat's new facility and mark the conclusion of Twin Cities Habitat's "New Home" campaign to fund its construction. Habitat raised just over $4.6M from the Board of Directors, a small group of individual donors, and many of Minnesota's leading corporations and foundations. The building is LEED Certified Silver, is easily accessible by the new Metro Transit Green Line, and has a variety of unique eco-friendly features.
See more photos from this celebration on our Flickr.