On Thursday night, Habitat supporters celebrated a family starting a new life in a beautiful home. This home dedication was filled with hugs, energized kids, and wonderful food.
"It's just a house now, but it'll become a home," said Win Curtiss, member of the dedications committee. Win smiled at the soon-to-be homeowners, Zirhumana (Fred) and Brigitte as they tried to corral their little ones.
Fred, Brigitte, and their three beautiful children are moving into a home that is big enough for the kids to finally run around in, and trust me, they love to run.
The couple w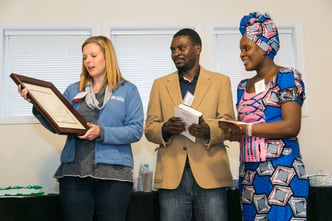 as incredibly eager to share their thanks with the gathering crowd. "Thank you all for coming. I'd like to thank my coaches and I want to thank my wife! She makes sure everything is done." Fred was so grateful for the help that Habitat gave the family to "achieve their goals". Brigitte shared that owning a home was a dream come true for them. With a big smile on his face, Fred gave his guests' the kindest offer, "You guys are welcome to come to stay with us!"
Linda White, a homeownership advisor from our referral partner Model Cities, spent a lot of time getting to know the family. Linda made a great connection with Fred, Brigitte, and the kids. "They left me an abundance of potato chips," she laughed, "I hope the two of you just enjoy this home."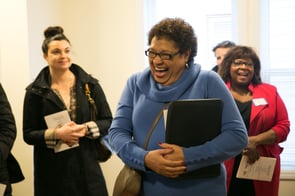 Sue Haigh, the president of Twin Cities Habitat, reminded us all that the homes built with Habitat are made possible by so many volunteers and sponsors. Hard-working hands and kind hearts help families, like Fred and Brigitte's, turn a dream into reality.
The dedication ended with delicious food and vibrant conversation, not to mention the kids still running up and down the stairs!
We wish the best for the family as they start this exciting chapter of their lives!