The Ahmed Family Celebrates a Year of New Beginnings
Posted by Becky Engen on .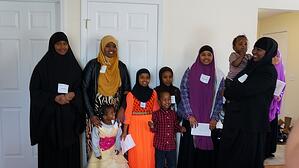 Isha Ahmed is a strong woman who has spent most of her life raising her family. She has 14 children, and the four youngest still live with her, along with three of her grandchildren. Her daughters, Luula, Hamdi, Malyuun and Munira, range in age from 8 to 16. Her grandchildren, Bosteya, Bashiir (the only boy in the house) and Rukia, a special needs child, are all under the age of eight.
The family is looking forward to having a place of their own -- a place without a disagreeable landlord, and a home that is large enough for all of them. The family is very excited to move into their new house and start the next stages of their life.
This past Saturday, the Ahmed family's new Habitat home was celebrated at the Home Dedication, complete with the presentation of the Golden Rule, a Bible, gifts from Habitat's youth groups and a few words from the Site Supervisors, the family, and Entrepreneur House leaders. During the dedication ceremony, Isha's daughter Luula shared the following with the sponsors, volunteers, Habitat staff and neighbors who attended the event:
"I'm happy to have a home of our own, somewhere for us to grow up, a place to bring our children, and a place to share with others and tell of the wonderful people like you who helped us. Thank you."
Habitat Site Supervisor Katie Ulwelling, also shared her gratitude for the dedicated volunteers that helped to build the new home, especially during the first few weeks of construction:
"Thanks to everyone who braved the rain the for the first few weeks. I remember sending people home with mud up to their knees!"
T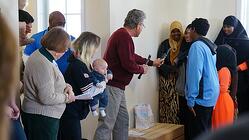 he construction of the Ahmed family's home was sponsored by Entrepreneurs House, a Habitat program that brings together a group of companies, investment firms and other businesses to build a home with Twin Cities Habitat for Humanity. Entrepreneurs House member Mik Gusenius spoke about building the home, and shared the following words with the new homeowners:
"I can definitely see parallels between entrepreneurship and homeownership...remember, you're the entrepreneur of this house now."
Once the family officially moves into their new home, John Hall, a Habitat staff member and the Ahmed's Neighborhood Partner, will continue to check in with the family as they adjust to their new home.
"My job is to help guide the family as they live in the home. I'll help with things like reminding them to check air filters, and ask them how they're getting along with the neighbors... we're here to support them."
The Ahmed family will close on their house at the end of January, and are excited to start the new year in their new home.