This month, Twin Cities Habitat for Humanity dedicated its 13th Entrepreneurs House, celebrating a long partnership of volunteerism and sponsorship.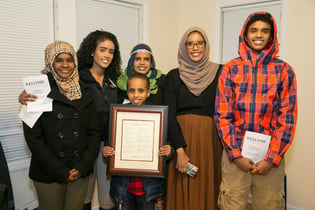 Twin Cities Entrepreneurs House, or "E-House", is a community service project where small and mid-tier companies make a big difference. With 40 or 50 businesses joining together, a whole Habitat house can be built for a family— making a lasting social contribution. This project also offers companies valuable team-building experiences and new avenues of communication among small businesses.

The work on this year's E-House began last June, and had over 600 volunteers, sponsors and supporters work alongside the homebuyers to turn their dream into reality.

At their home dedication, Sadia Barre & Asha Omar beamed as they stood with their family in their brand new living room. "We are so grateful and very excited to begin our lives in this home," Asha said.

They were joined at this celebration by many of the volunteers and sponsors that supported the build, as well as a handful of neighbors. Win Curtiss, a member of the Twin Cities Habitat Dedications Committee, reflected on the commonalities that bring a group of people together like this:

"We each are called to find our place in this world. May this home be a place where your spirit dwells and grows."

Twin Cities Habitat Site Supervisor Eric Weatherman spoke about the engagement with the Fridley community, of which he is a part of, throughout the build. "My role is pretty small. I show up and give some direction but the work is really up to the volunteers and sponsors. They make it all come together. This has been one of my favorite builds, only partially because it is so close to my house. This a great neighborhood and a wonderful area to live in."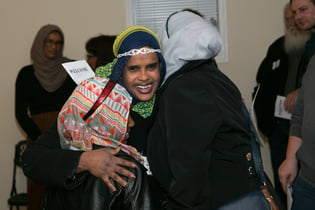 Mik Gusenius, co-founder of Entrepreneurs House thirteen years ago, spoke about the partnership with Twin Cities Habitat. "We don't have the resources to go out and build a home all on our own, but we do have the capacity to gather people and work together. When you get advisors, investors, and sponsors together, your vision & your company keep thriving." Mik says this is similar to moving into a community. He encouraged Sadia and Asha to keep investing in their community, to get involved and learn about their neighbors. Build connections and "your family will flourish."
A member organization of Entrepreneur's House, Calabrio, surprised the family with donated household supplies, gardening materials, a skateboard, and two bikes.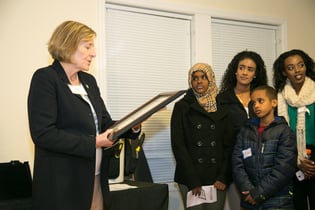 During the dedication, Sue Haigh, President and CEO of Twin Cities Habitat, was reminded of the importance of community. She thanked the family and neighbors for being part of the building process.
"We are here tonight to celebrate your courage, your strength and your perseverance. Thank you to all the neighbors that came out tonight. Thank you for your support throughout the build. I spoke with one family that has been here for forty years! I am so excited for you (Sadia and Asha) to put down roots here. This is a place people stay!"
Twin Cities Habitat provides an opportunity for families in need to become homeowners. But it does this in partnership with families that must contribute hours of hard-work, take training courses, and have the ability to pay a mortgage back over 30 years. Twin Cities Habitat can do all of this only because of the generosity of sponsors, companies (like those involved in Entrepreneur's House), and working relations with city Housing and Development offices.
We are immensely grateful for the city of Fridley for working with us on procuring and building on this lot.
View more pictures from Sadia & Asha's home dedication.