What happens when you bring together dozens of small companies and hundreds of entrepreneurial individuals? You can build a house. That's the idea behind
Entrepreneurs House
, a community service project where small and mid-tier companies work together to build a new, affordable home for a Twin Cities family.
And it's not just an idea; it's a model that works. Last week, Entrepreneurs House (E-House) started work on its 13th house with Twin Cities Habitat for Humanity. Since its founding in 2003, E-House has raised over $1.2 million to build homes in the metro area. They've grown from a group that worked 10 days on site to a network of 50 or more companies that contribute time and financial resources to Habitat projects. Check out their impressive growth below.

For the 2015 build in Fridley, E-House aims to engage more than 600 employees from 50 companies and to bring in $150,000 to fund the home's construction. The project provides small companies with the opportunity to make dreams come true for families. For example, last year's 2014 Wayne Atkins Entrepreneurs House helped Ktim and Abeer finally achieve their dreams of homeownership. Plus, E-House offers companies unique and valuable team-building and networking experiences.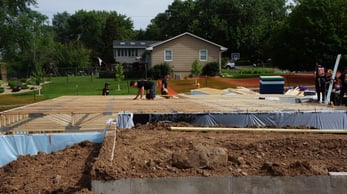 Over the next several weeks, groups from a variety of companies will join site supervisor Eric Weatherman to help construct the house. Some of these groups may even have the opportunity to build alongside the homebuyer, Sadia, who will be working on sweat equity requirements throughout the summer.
Entrepreneurs House is guided by a steering committee of volunteers who help recruit companies, coordinate volunteers and sponsorships, and build awareness of affordable housing in our community. "It's pretty impressive that a small steering committee can recruit that many companies and people year after year," Eric said about the group. "Many of these volunteers have been doing this for a long time and they work pretty darn hard to make it all happen."
One of those volunteers, Mik Gusenius, is the Chair of the Steering Committee and a Director at Cherry Tree, a founding sponsor of E-House. Mik says the company had always believed in Habitat's mission, but sponsoring a whole house was out of reach for the 30-person firm. And that's the beauty of this unique program: "Entrepreneurs House allows us to come together with other companies in similar situations to provide volunteer and financial support to help build an entire house." And it's a bonus that the build days are a lot of fun. Mik shared that his team at Cherry Tree looks forward to being on site each year and that "it's a great opportunity to work together outside of the office!"

The Entrepreneurs House build continues through August and companies are invited to bring a team of volunteers to help with construction for a full day (8:30 am to 4:00 pm). Fill out the contact form on the E-House webpage to learn how your company can help build a new home for a Twin Cities family!