By Stephani Atkins
Entrepreneurs House Steering Committee Member
In 2014, approximately 600 people worked on building the Wayne Atkins' Entrepreneur House completing the project in record time and ahead of schedule. The
financial contributions
of private individuals, entrepreneurs, investment firms and service providers made the construction of the home possible. In
December 2014
Siralkhtim Ahmed and Abeer Mohammednor, along with their five children, Mohammed (14 yrs), Ali (11 yrs), Hamza (9 yrs), Naba (6 yrs), and Azam (3 yrs), moved in to their new home.
This is the story of their long search for a place to call home.
From a young age Siralkhtim Ahmed (Ktim) aspired to build with his own hands a house he could live in, but dreams like his found little hope where he grew up in Khartoum, Sudan.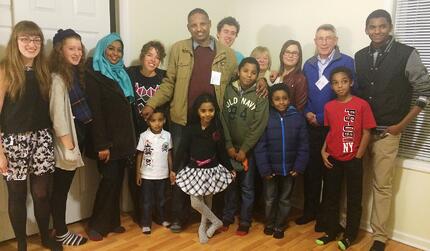 For Ktim, Khartoum afforded few work opportunities. "I was making nothing," Ktim said. The job he held not only paid minimally, but also restricted his freedom to look for better work. "I had no future. I couldn't make a living in Sudan, couldn't afford to get married. It's very expensive to have a house in Sudan."
Today, Ktim, his wife Abeer, and their five children own the Wayne Atkins' Entrepreneur House built through Twin Cities Habitat for Humanity and sponsored by a group of entrepreneurs organized and co-founded by the home's namesake.
On a residential block in Crystal, a northern suburb of Minneapolis, the Wayne Atkins' Entrepreneur's House seems serene until the high energy of youth tumbles out the side door and dashes down the ramp. Naba, Ktim and Abeer's daughter, skips down the driveway on her way to kindergarten. Thick pink tights, a pleated navy skirt and a neatly plaited braid that hangs down just above her purple backpack display her eagerness to learn.
Her brother Hamza, just a couple of years older, darts ahead of his sister to make it to the bus stop first. The hood of his black sweatshirt protects his ears from the morning frost.
Abeer follows. Dressed in skinny jeans, a black leather jacket and a turquoise headscarf, she meanders to the corner, flashes the children a big smile and waves as the bus lumbers towards the stop. A neighbor boy with an orange hoodie pulled over his head in a similar fashion to Hamza's hustles past Abeer to join the line.
How could Ktim have ever possibly imagined such a scene when he lived in Sudan and dreamed of a better life?
The siren's call
In 1996, lured like so many other immigrants by the American dream Alexis de Tocqueville defined almost two centuries before as "the charm of anticipated success," Ktim flew to New York to visit friends and consider the possibility of moving to America.
He expected his friends would be at the airport to pick him up, but traffic delayed his ride. As he waited, Ktim serendipitously ran into another friend about to board a flight home to Minnesota. The friend encouraged him come to Minnesota, an invitation Ktim soon accepted.
When he arrived in the state, Ktim found Minnesotans to be 'smiley' and happy. "Nice people," Ktim said. "The people you like to stay around." Minnesota, not New York, appealed to him, and he knew he wanted to stay.
Ktim returned to Sudan and applied for the Diversity Visa Lottery (DV). To his surprise, he won a visa right away. He headed back to Minnesota and settled in Oakdale. Determined to succeed, he worked two jobs: one during the day at the Pearson Candy Factory in St. Paul, the other at night at Burger King. As he became more familiar with the Twin Cities, he would give up his job at Burger King to drive a taxi instead.
But Ktim had left a girl behind in the Sudan. Engaged to Abeer Mohammendor, Ktim frequented Sudan as much as he could. In 1999 they married. Ktim searched for ways to bring Abeer to the United States and discovered the Minnesota English Language Program (MELP) offered through the University of Minnesota. The program helps non-native speakers to learn English, and an opportunity opened up for Abeer to study. When the couple ascertained it could take up to five years to secure a student visa for Abeer, they decided that was too long.
Ktim urged Abeer to seek assistance from the US Embassy in Khartoum. Armed with an acceptance letter from MELP, and eight months pregnant with their first child, Abeer repeatedly requested an interview from the Embassy. On the fourth time, her persistence prevailed. She met with the embassy counselor, and he not only issued her the visa, but also helped her secure a passport.
It happened so suddenly Ktim did not expect it. Just as Ktim was about to leave Minneapolis for Sudan to visit Abeer, he found out she would soon come to stay with him. Abeer arrived in Minnesota at the end of October. She gave birth to Mohammed in December.
The visa only lasted for six months and required she be a matriculated student. Ktim had only pinched together enough money to pay for one semester of Abeer's tuition. The couple worried Abeer would lose her visa and be deported. Help came from an unexpected place. Civil war, violence and upheaval in Sudan spurred the United States to offer Temporary Protective Status (TPS) to the Sudanese currently living in America. Abeer could stay. Later, Ktim would become a US citizen and Abeer would be granted a green card.
Refusing to give up on a dream
Ktim worked hard, but his growing family had to move between many different rental units around the Twin Cities. Ktim and Abeer longed for a home of their own.
In 2001 Ktim applied for a Habitat home, but he lacked the sufficient income to meet Habitat's criteria. For ten years, the family followed a skeletal budget with no extra padding for either a telephone or cable television. With the birth of each of their children, their income had to rise accordingly in order to qualify for a Habitat home.
Ktim continued to hold two jobs. Abeer attempted to work, but the expense of childcare ate up most of what she earned; and, the couple decided it made more sense for her to stay at home with the children. Instead, she went to school and earned her high school diploma.
Ktim and Abeer applied and reapplied in the hopes of qualifying for a Habitat home. "We never gave up," Ktim said. "Every year we go back and tell them. We would like a home." In 2008, after seven years of trying, Ktim felt defeated and turned the matter over to Abeer. "I'm not going to go," he told Abeer. "You have to go. I tried my best. That's it."
Abeer persisted. She wanted a house. In 2014, the couple succeeded.
A place of your own
When you don't have a home of your own, Abeer explained, you have to be careful not to make too much noise or to damage the rental in any way. "Always, I'm telling the kids, 'don't play,' 'don't jump,' 'don't do this,' 'don't' make a loud noise,' 'don't make a loud voice to the neighbor.'" Abeer laughed. After they moved into their Habitat home, she automatically reacted to the kid's noisiness with the usual scolds.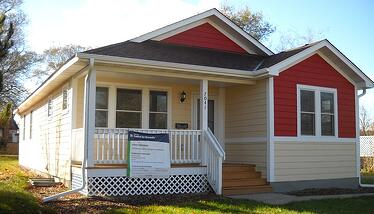 "But mom," her kids told her, "don't say 'the neighbor.' We live in our own house now."
Ktim added: "They say, 'I can jump, I can do whatever I want.'" Ktim paused. "It means a lot. It's a new start. That's what I was dreaming of. That's why I left Sudan."
"The kids are so happy," Abeer said.
Ktim agreed. "They know they are not going to move anymore. They have friends for good. A big dream is coming true now."
Shared dreams
Ktim once dreamed of building a house for himself. Now he aspires to "build another house; build a house for others like me" so that he can "make a really big difference for others."
While volunteering on projects for Twin Cities Habitat, he rediscovered his interest in construction and his passion for building houses. The different homes he worked on exposed him to a range of skills from installing a door one day and shingling the roof the next. "I learned a bit of everything." He chuckles. "I'm not saying I'm good now, but it gave me the courage to go to school and learn more." He needs only seven more credits to complete his associates degree from Hennepin Technical College. He nods. "Another dream."
This summer, Ktim wants to continue to volunteer on work sites for Habitat. Once Mohammed turns sixteen (the minimum age requirement), Ktim will bring him along. "I hope me and Mohammed go back in the summer to Habitat and help so we can keep learning. At least one day a week." Ktim smiles. "Keeping that dream."
Twin Cities Habitat for Humanity brings people together to
create and preserve homeownership in our neighborhoods, to
partner with hard-working, low-income families to be successful homeowners, and to
inspire action that promotes affordable housing for everyone in our community.
Twin Cities Habitat is best known for its homeownership program that
builds and rehabs simple, quality homes
in partnership with low-income families and the community.
The homes are sold with affordable mortgages,
creating a 30-year partnership between each new homeowner
and to our entire Twin Cities community.