To say that Jennifer Kenny-Hendry is a multitasker would be a huge understatement. This mom of three (son Trevor, and twin daughters Faythe and Paige) holds a full-time position at a Minnesota insurance company, a second part-time job, goes to school full-time and is President of her townhome association. When Jennifer talks about the many hats she wears, she just smiles and jokes "I don't think I sit down."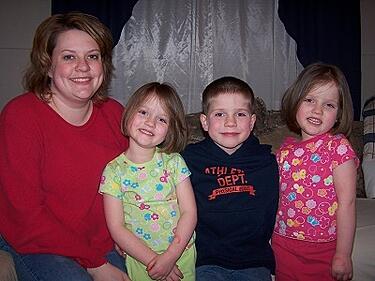 Jennifer closed on her Habitat for Humanity home back on June 19, 2006, and her family was the first to move into the Gateway neighborhood in Woodbury. Prior to becoming a homeowner, Jennifer and her kids lived in a 12 feet by 25 feet space in the basement of her parent's home, where she slept in the same room with her kids.
"I am extremely thankful for the opportunity that my family has had to earn a home through Habitat," Jennifer said during her homebuyer interview. "There are no words to express our gratitude. Thank you!"
We recently sat down with Jennifer and her children, to catch up on what they've been up to since moving into their Habitat home eight years ago. The kids have grown, and Jennifer is staying busy, but it is clear this family is thriving in their new space, and enjoying making changes and improvements to their home.