At 9:00 a.m. on a weekday in May, Kera saw the house pop up in her online search. She was immediately intrigued, and knew she had to act fast. By 9:05, she was talking to her realtor and Angelo, her boyfriend, to see if they could get a tour. At 11:00 a.m., they showed up at the home. They loved it. Soon, they would put in an offer.
"The stars aligned!" Kera says.
Because of Kera's hard work and determination, and Habitat's Homeownership Program assisting every step of the way, she knew she was set up for success.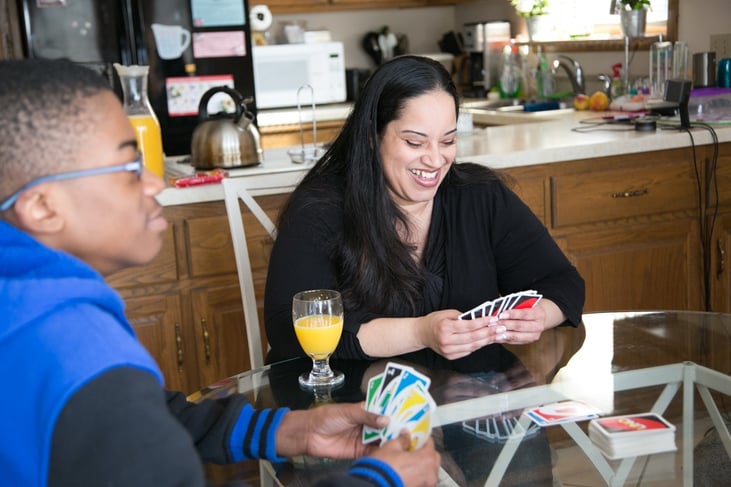 The journey to homeownership
Kera is among the first to buy a home on the open market using an affordable Habitat mortgage*. Like all Habitat homebuyers, she went through one-on-one financial coaching, homeownership education, and mortgage preparation. But our recent Homeownership Program expansion gave Kera the option to work with a realtor of her choice to find a home for sale, and it turned out to be perfect for her.
Kera was coming out of foreclosure of a home she owned several years ago, and was looking at her options. She didn't want to rent forever, and knew there must be some way back into homeownership. She ended up at Project for Pride in Living (PPL), one of Twin Cities Habitat's Referral Partners.
She worked with PPL for a year to prepare for homeownership again, and learned a lot, but she wasn't finding the perfect path into homeownership—until she heard about Habitat's expanded Homeownership Program.
"My impression of Habitat was people volunteering and building houses," she says. "Learning about the open market option was really exciting, and perfect for my situation."
PPL referred Kera to Habitat and she worked with a Financial Empowerment Coach to ensure she'd be ready for the mortgage. She attended Habitat's homeownership classes, and enjoyed learning things like landscaping, conflict management with neighbors, and fire safety (to this day she keeps a fire extinguisher close to the fireplace).
Soon, Kera was ready to begin looking for her home. After her first realtor wasn't working out as well as they had hoped, she met another realtor at an open house and decided to start working with her. That's the beauty of buying with Habitat on the open market: options. You can do what works best for you.
After several months, countless home visits, and a few offers, Kera was at that home showing at 11:00 a.m. Kera and Angelo happened to arrive when the homeowner was still there, and they started chatting. He told them he had built the home himself. Angelo, who works as a contractor, was impressed. He showed them the unfinished basement. He also showed them his plans to one day expand the home—a dream he wasn't able to complete. It was a perfect visit.
When it came time for them to make their offer, Kera included a letter to the owner.
"I wanted him to know that I'd be honored to continue the work he was doing," she says.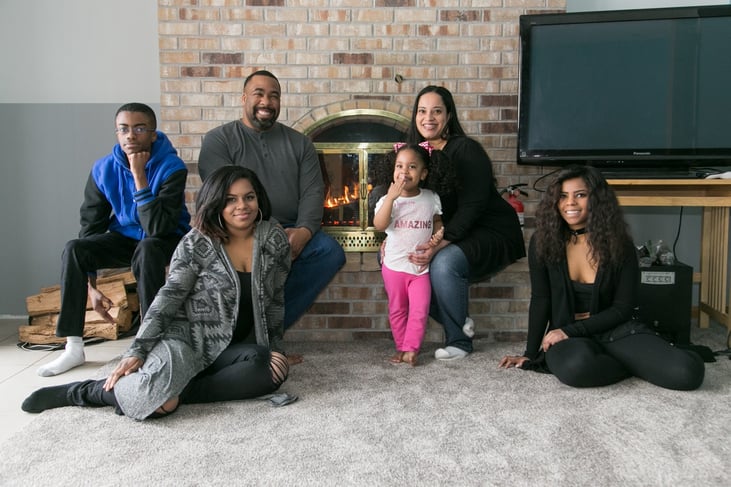 Loving the new home
Soon enough, their offer was accepted, and Kera received the keys to her home. At first, she almost couldn't believe it. For a few days, she would drive by the house at times, just looking at it. She was too shy to go in the front door.
"It was unbelievable that this is my house!" she says.
After moving in, Kera and Angelo worked whenever they could to finish the basement—building walls for rooms, hanging sheetrock, painting walls, installing carpet.
Throughout the process of settling into her new home, Kera occasionally sends letters to the previous owner with updates on the neighborhood.
"Everything that's been done to this point, I think of him constantly—I think 'I hope he'd be proud, I hope he'd be happy!'"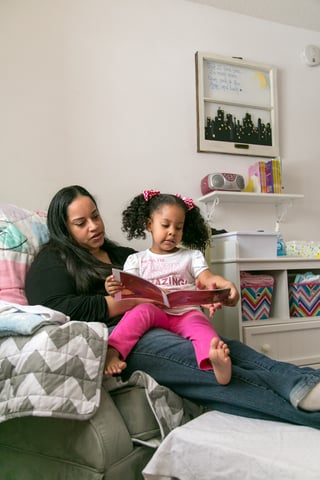 Kera's family loves the space. Kera was so excited to decorate her two-year-old daughter's room with her. Her son is settling into his own room in the newly finished basement. Their cat and dog have their own space in the basement, where Kera's able to work from home. Most days, two deer wander through their yard, and the kids have named them "Darla" and "Baby Darla." It's a warm, welcoming home.
Soon, they plan to convert part of the garage into a room and bathroom so her grandma can come live with them. "We'll have the comfort of knowing Grandma is safe and close by," Kera says. "Grandma's super excited!"
Kera highly recommends Twin Cities Habitat's Homeownership Program, especially to those who qualify to buy with Habitat on the open market.
"When you hear Habitat, you might think that's not for me…to those people I say, 'Yeah but you deserve it, too. You work hard, too. If you fit within the guidelines, this is for you."
And Kera did the math to back this up. She calculated what would happen if she had removed $25,000 from her retirement savings for a down payment and other closing costs instead of going with Habitat. The impact when she retires in 25 years? Kera believes she'd have $973,000 less—mind-boggling!
"The impact that Habitat is having…it's a huge deal for a family like mine," Kera says.
"Habitat's putting you in this amazing position to succeed, so you will!" she adds. "It will be good for you, good for your family, good for your finances. You will be successful. It will lay the foundation for whatever you want to do!"
*All Habitat mortgages are originated by TCHFH Lending, Inc., which is Habitat's wholly-owned nonprofit mortgage company.