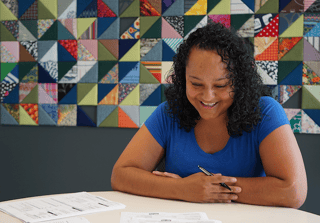 There's no feeling quite like owning your own home. What a wonderful accomplishment to achieve. And you can paint, decorate, and landscape it just the way you like. No one else will have a house like yours.
But purchasing a home is a big investment, and therefore requires some financial preparation.
How do you qualify for Habitat for Humanity?
Habitat for Humanity partners with low-to-moderate income homebuyers to purchase homes in the Twin Cities. Through this Homeownership program, buyers receive:
Education on the responsibilities of owning a home
Financial coaching towards mortgage readiness
Home buying options with Habitat
Think we might be a good fit? Take a look at our program qualifications and read answers to our most frequently asked questions below.
What are the income/credit requirements?
Your household's gross income must be between Habitat's minimum and maximum income levels, which you can see on our Homeownership Program criteria page. Your household includes anyone who will be living with you in your home. Gross income is the amount of money you earn before taxes and any other benefits are taken out of your paycheck.
You must also have a credit score of 580 or higher. Those without a credit score may be accepted with alternative credit documentation. If you don't know your credit score, there are a number of ways to check your credit online for free.
Can I apply if I am not a U.S. citizen?
Yes, but you must have a legal residency status and live within the seven-county metro area for at least one year to apply to our program. The seven counties include Anoka, Carver, Dakota, Hennepin, Ramsey, Scott, and Washington.
Do I have to be married or have children to be eligible?
No, whether you are married or not, it does not affect your eligibility. Similarly, whether you have several children or none, you may still be eligible for the program.
The questions above tackle only a few of the Program's requirements. Below are a a few more specifics.
Other requirements include:
One year of continuous employment or two years if self-employed
Two years since discharged from bankruptcy, plus one year of new credit with no late payments or default
No more than $2,000 in unpaid collections (less than $4,000 in unpaid collections if it's related to medical expenses)
Less than $1,000 in judgments and liens combined
No more than 18% of your gross monthly income dedicated to paying monthly debt
If you still have questions about our program, please call Twin Cities Habitat for Humanity. We're more than happy to help!