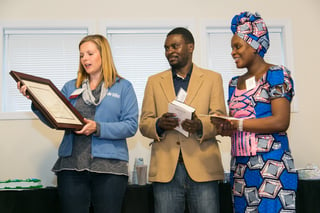 A few months ago, we highlighted the referral partnership between Model Cities and Twin Cities Habitat. Today, we're excited to share an update from one of the first families who chose to prepare for Habitat homeownership by partnering with Model Cities (one of several Twin Cities Habitat Referral Partners).
Fred and Brigitte first inquired about the Twin Cities Habitat homeownership program in the summer of 2016. They knew their apartment lease was ending in April 2017, and wanted to buy a Habitat house before then. Since their credit score and debt were standing in the way of their homeownership dream, Fred and Brigitte opted to start their financial coaching with Linda White at Model Cities—and they are so glad they did. Now, they are proud Habitat homeowners.
"Our home is beautiful! It's a dream! A blessing from the sky!" Brigitte said with a big smile. Their two energetic sons no longer share a bedroom, which helps them settle down and get more sleep (since they're not always playing instead of going to bed). For their daughter, who was born in December 2016, this home will be the place where she grows up. They love their big yard, their quiet neighborhood, and are getting to know their neighbors.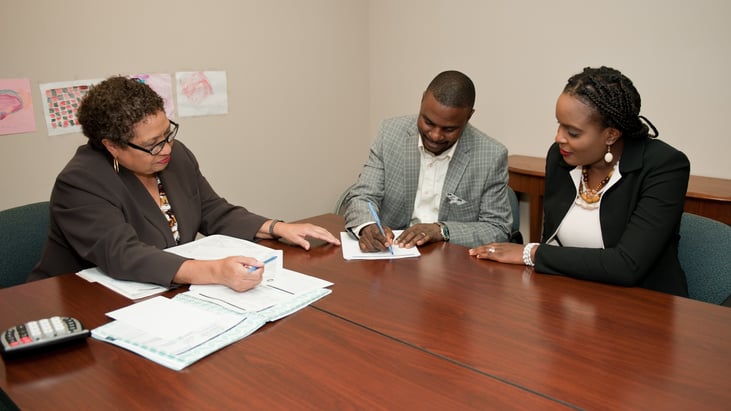 From L to R: Linda White (from Model Cities), Fred, and Brigitte at a financial coaching session.
Our trusted Referral Partners (like Model Cities) work one-on-one with families to ensure they're ready to buy a house. The financial coaches refer to Twin Cities Habitat's mortgage requirements and listen to the goals of the coaching participants. When a family is ready, they can refer them back to Twin Cities Habitat—if that's still the best option.
For people like Fred and Brigitte who are eager to move into homeownership, working with a referral partner to assess their financial and credit barriers can be a great option. The benefits of working with any financial coach go beyond achieving homeownership, and they last a lifetime.
"We are so grateful!" said Brigitte. "Before coaching, we knew nothing about buying a house and building credit. Linda taught us everything—how to budget, save, build good credit. She answered all of our questions, and was there to listen. She worked hard!"
"Clients should feel comfortable giving me a call with any questions," Linda added, pointing out that Fred and Brigitte's willingness to ask many questions helped a lot with their process.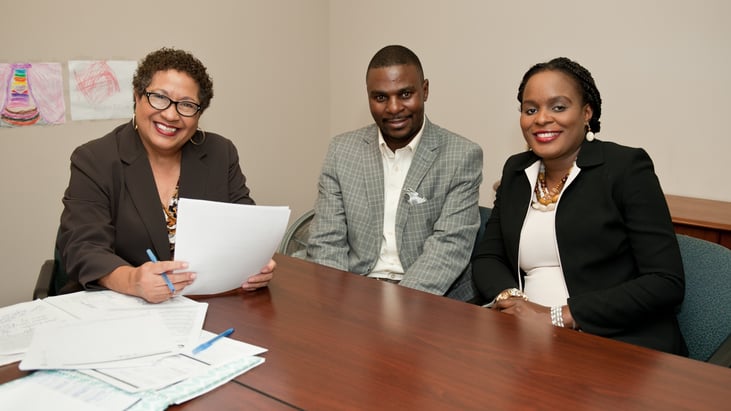 Linda was with Fred and Brigitte every step of the way—she even attended their home dedication. Once Linda determined that Fred and Brigitte were mortgage-ready, she referred them back to Twin Cities Habitat. From there, they worked with Jessa Anderson-Reitz to finish the rest of their requirements and prepare to close on their home. (At the time, Jessa was a Financial Coach—now, she's the Intake Coordinator for Programs & Services.)
"Jessa helped a lot," Brigitte said. "She made sure everything was right, she worked hard, and she would listen."
Next, they worked on their Habitat mortgage application with Maureen Holman, Habitat's Community Loan Officer. Like Linda and Jessa, Maureen was very helpful on their path to homeownership. She responded quickly to all their questions, and helped them to understand the mortgage process.
"I can't forget about a day when I came to her crying, and she reassured me and gave me the information that I needed," said Brigitte. "I couldn't thank her enough for what she did."
"It's always good when you know someone who has the answers," Fred added, referring to Linda, Jessa, and Maureen.
Even now, months later, Fred and Brigitte continue to use the skills they learned with Linda:
They make sure to budget all their money, even for things like future vacations and nights out.
They built excellent credit scores with Linda's assistance, and continue to use good credit practices—like never owing more than 30% of their credit card limit at any time.
They started with 15 student loans, but now have 7—by focusing on paying off the smaller loans first.
They negotiated lower interest rates on their student loans by showing their improved credit scores.
"Despite our income, with help from Model Cities and Habitat we are now able to call a place a home," Brigitte said. They 100% recommend working with a referral partner if you're considering buying an affordable home with Habitat.