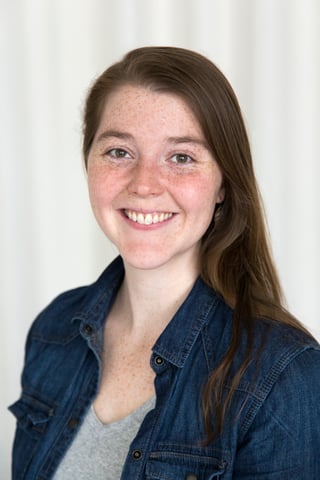 When Jessa's friends and family would ask what she planned do with a degree in English, she answered that she'd love to work for a nonprofit like Twin Cities Habitat for Humanity. Now, as a Financial Coach and Referral Administrator, Jessa is an integral part of Twin Cities Habitat's homeownership program expansion.
"I never expected that I'd be doing financial coaching," Jessa says, "but I knew I wanted to work directly with people." Over the last eight months, Jessa estimates that she's met with almost 70 families in one-on-one financial coaching sessions, equipping them on their path to homeownership.
Jessa's previous experiences have played a role in preparing her for financial coaching. She spent one summer during her studies at Luther College as an A Brush With Kindness AmeriCorps VISTA with Twin Cities Habitat. Painting and repairing homes that summer gave her a good sense for the kind of work families might be doing as they complete their sweat equity hours (her tip: learn to paint comfortably with your non-dominant hand).
After college Jessa felt drawn to work in the non-profit sector. She came back to Twin Cities Habitat through Lutheran Volunteer Corps, where she spent a year focusing on the intake process for potential Habitat homebuyers. She then spent a season with a local nonprofit called Free Bikes 4 Kidz where she led volunteers and changed bike tires. Jessa enjoyed working with volunteers, and returned to Twin Cities Habitat again as the Faith Relations Assistant before joining the Homeowner and Community Development team in September 2016.
For the past two years, Jessa has been working with Prepare and Prosper as a seasonal site manager during tax season. Prepare and Prosper provides free tax assistance and related financial services to help Minnesota families achieve financial success. Jessa has found this to be another way she can combine her passion for financial literacy and direct service.
Jessa sees her current role as equal parts cheerleader and coach.
As a cheerleader, she encourages and points out successes: "Sometimes I say 'Stop everything, we need to celebrate this! You put your tax refund into savings!' or 'Your credit score went up!'" Celebrating, and seeing her clients get excited about something new they've learned, is Jessa's favorite part of her job.
As a coach, she helps families "get their swing right," to use a baseball metaphor. She notices when someone might be off in their approach, and can identify a mindset or habit that a client might want to change. Jessa wants to make talking about money less of a taboo, because once our relationship with money is out in the open it doesn't feel like such a be-all, end-all thing.
"I'm optimistic but also a realist," Jessa says. "We're going to talk about what's really going on. And sometimes the 'when' of homeownership just doesn't fit the client's ideal timeframe, but I make sure to set real expectations for myself and my clients."
"I'm not perfect either," Jessa adds, "and it helps to be real about that with people. I also need to make time and have these conversations about finances in my own life." That honesty helps build trust, which is essential in the financial coaching relationship.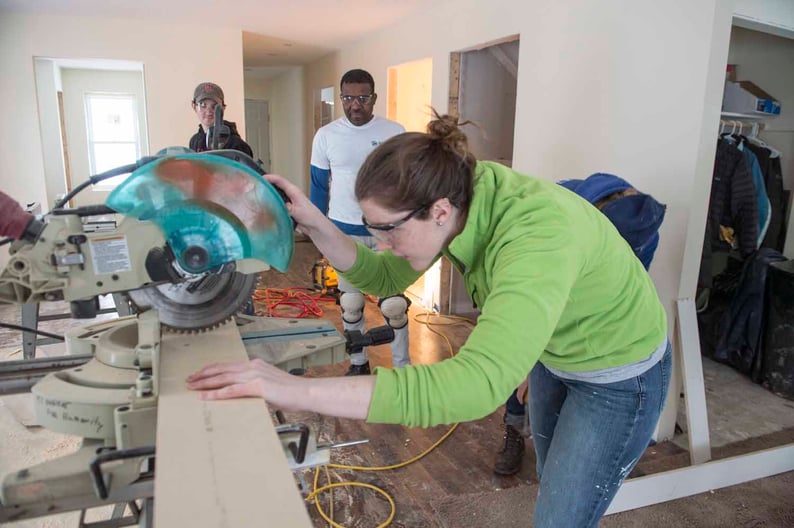 Jessa's also a member of the Diversity & Inclusion Action Team at Twin Cities Habitat, which is tasked with helping the entire organization become more interculturally competent. She is constantly working to apply what she learns about intercultural competency to her coaching work, so that she can recognize, honor, and celebrate whatever differences might exist between herself and her clients. This allows Jessa's tender heart to shine through in her coaching relationships—and it allows everyone to have more fun, too.
Outside of Habitat, Jessa enjoys reading: "Since I studied English literature, I have a lot of unread books on my shelf at home," she says. She also enjoys biking the Minneapolis and Saint Paul trails, cooking with her partner, and knitting. She's recently learned how to knit hats!