Twin Cities Habitat for Humanity hit a new milestone on May 31 as we celebrated the first family who partnered with us to buy a home affordably on the open market.
Muktar and Esniya bought a split-level home in Brooklyn Park for them and their two young sons. The family is the first to use a Habitat mortgage (originated through TCHFH Lending Inc.) to buy a home that wasn't built or developed by Twin Cities Habitat. This new buying option for families is part of a four year plan to more than double the number of families that can partner with us on buying homes.
Sue Haigh, President and CEO of Twin Cities Habitat, was thrilled for Muktar and Esniya: "What a great opportunity to have a family use the open market. One of the things I love about this program is that it takes all of the great aspects from our Homeownership Program and brings them to the open market."
Just like everyone who buys a home with Twin Cities Habitat, Muktar and Esniya completed homeowner classes and one-on-one financial coaching.
The family's financial coach, Alice Melton, found Muktar and Esniya to be extremely impressive throughout the process: "I first met Muktar a few years ago. He listened to every word I said in classes, he asked great questions, he knew what he wanted to do and what was important. I'm really happy you're the first couple to go through this process!"
Being the first to do anything can be intimidating and daunting. Muktar told those who gathered at the dedication that everyone involved in this process learned a lot from each other. Each family that buys a home on the open market with Habitat also gets to pick which Realtor they work with.
Charlie Braman, from Braman Brothers Real Estate, LLP part of Coldwell Banker Burnet, worked with Muktar and Esniya: "Muktar and Esniya were ideal clients. They were incredibly smart, did their research, and took tons of energy and time to understand the process. They taught a lot of us about the program that we will be able to use for future families."
Muktar believes the three of them saw over 30 homes. "Charlie was very patient with us," Muktar said. "He made it happen."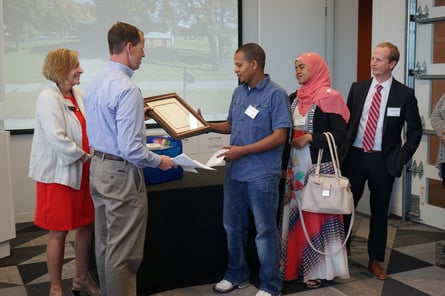 Like any other home dedication, Muktar and Esniya received the framed Golden Rule to keep in their home. Trent Blain, a member of Twin Cities Habitat's board, explained how the Golden Rule represents all the people and families we work with from many faith backgrounds.
It was exciting to see the first success story of this program, and it gave all those who gathered faith in the mission and the goal—partnering with more families in the community.
Approximately 50 Habitat staff members showed their support for Muktar and Esniya during their dedication event. The feeling of accomplishment and hope for the future filled the room. "Think about all this love when you are in your home," said Haigh.
Thank you Muktar and Esniya for pioneering this homebuying option now available at Twin Cities Habitat. We wish them and their two young boys the best of luck in their new community.