For Alice, working at Twin Cities Habitat is all about helping families achieve their dreams of homeownership. She estimates that she has met with approximately 5,000 families since starting with Habitat in 2011. And although the vast majority of those families didn't buy Habitat homes, each one of them got Alice's undivided attention and respect as they explored options for improving their housing.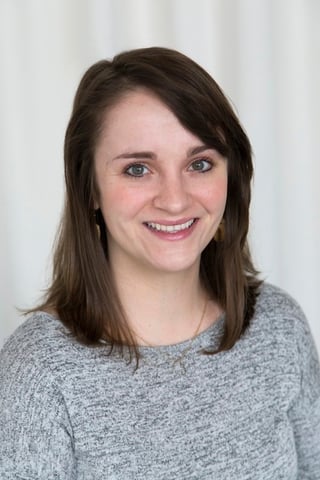 "I came to Habitat right out of college," Alice remembers. "I wanted to work for a nonprofit to give back to people who had fewer advantages than I've had. Housing is really an important thing and a basic need. It's where a lot of things start for families."
Alice majored in African and African-American studies at Carleton College in Northfield, MN. Historically, nearly 90% of families that apply to buy a home with Twin Cities Habitat are families of color, and a significant portion are East African immigrants. Alice got to use her college training in her very first job at Twin Cities Habitat as she did community outreach and tried to get more families interested in the Homeownership Program. She was so successful that within a couple years Habitat had a considerable waitlist for buyers.
Over the past two years, Alice has helped with the expansion of the Homeownership Program, so that more families will be able to partner with Habitat in the future. She has also helped integrate one-on-one financial coaching for every family into the Habitat homebuying process.
Alice, like all the Twin Cities Habitat Financial Coaches, helps would-be homebuyers go over their finances, establish budgets, and set goals. She says, "A lot of families are like, 'wow, we needed this, thank you.' Even if it's just sitting down with a husband and wife and talking about what you spend money on."
Alice sees great resiliency in many of the families that apply to Habitat. "I have a lot of single mom clients and it can be hard to comprehend how they're making it work," she says. "I check in with them every few weeks and I can tell they're genuinely thankful to have someone holding them accountable." It takes ongoing support because she says, "Unless you're reminded of how to make the change in your life you're unlikely to do it."
Hearing stories from would-be Habitat families that are crammed into relative's basements or trying to sleep six people in two-bedroom apartments helps motivate Alice. She says the best part of her job is going to the home dedications events, after all the coaching, classes, sweat equity, and mortgage paperwork are done, and seeing the families that have succeeded in making their dreams of homeownership a reality.
Near the end of 2016, Alice's very first financial coaching family completed all their homebuyer requirements and closed on their home in South Minneapolis. Alice was there at the dedication event as the children joyfully ran through their new house and showed off their bedrooms to all the volunteers who had gathered to congratulate them. It was a once-in-a-lifetime event for the family and just part of the job for Alice.
If you, or someone you know, is interested in pursuing homeownership with Twin Cities Habitat please visit our website to find out how to get started today.