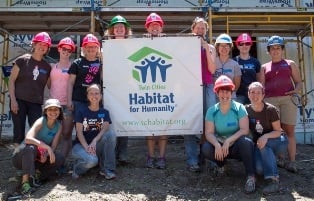 For the past four years Andrea Cole has been organizing a build day for her birthday and asking friends and family to donate to Twin Cities Habitat in her honor. Twin Cities Habitat for Humanity has always been an important part of Andrea's life.
She was introduced to Habitat as an AmeriCorps member in 2001 and remains heavily involved. Originally from Pennsylvania, she has made the people she met through Habitat her family away from home, so it seemed only natural to her that she would celebrate her birthday with Habitat.
Each year, she asks her friends and family to spend a day building with her or to make a donation to help cover the cost of materials used during their volunteer day. Andrea feels giving the opportunity to join her onsite or make a donation is "an opportunity for people to feel they are directly contributing to bettering the lives of a family. When you volunteer you get to be there physically and you can see tangible results."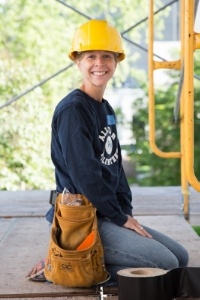 In June when Andrea organized the build day, her friends were installing window trim. The site supervisor told everyone, "now every time you drive by this house, you will look at the trim and know you helped install them."
"I think it keeps people coming back, knowing they are making a difference. And there is a connection to the people you are helping, because you can see photos of the family or meet them onsite" said Andrea.
This year Andrea set her goal to raise $800, but surpassed it by $100. Her advice for anyone donating their birthday to Twin Cities Habitat is to "just go for it!"
"Since Habitat is a recognizable and reputable organization, there is no question the money donated goes into the houses volunteers work on- donors feel happy to give."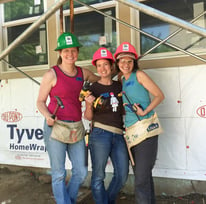 Andrea found the online tools and website easy to set up and use for signing up volunteers and donations. "You might see it as a challenge to get volunteers to sign up, but [you'd be] surprised how many will jump at the chance to do it!"
If it is the first time one of her friends has volunteered, they are excited at the end of the day, because they learned something new in a supportive and encouraging environment.
If you want to make your birthday that much more meaningful and give back to your local community, consider donating your birthday to Twin Cities Habitat for Humanity. You can organize a build day or fundraise to help more families purchase an affordable and safe home. Check out Andrea's page and then make your own!