Lyman Companies, a residential construction company, is the main supplier of Twin Cities Habitat for Humanity (TCHFH) lumber. Since 1995, the partnership has flourish into donations of materials and labor to help build Habitat homes. This kind gesture continues today and TCHFH is grateful to welcome them for another year of building.
Lyman Companies traces its roots back to the opening of a lumber mill in Excelsior, Minnesota in 1897. Today, it's comprised of specialty sub-companies and prides itself on providing quality goods and services to the residential construction industry. Each year a different contribution is made to Habitat's homebuilding process.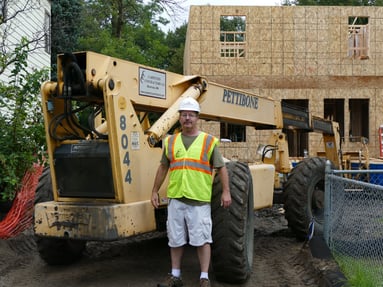 The past years have included trimming and cabinet work. This year, Lyman Companies donated the framing and sheeting of a roof for a Habitat home located in St Paul's Dayton's Bluff neighborhood.
Three divisions of Lyman Companies participated in this year's in-kind donation: Lyman Lumbers provided the lumber, ABC Truss provided the trusses, and Carpentry Contractors provided the labor.
Kevin Beck, Construction Manager for Lyman Companies, is project managing the framing and sheeting for the house build. He and his coworkers look forward to showing up to the build site daily to help Habitat transform communities.
"Lyman Companies is proud and honored to be a part of the Habitat mission in helping to provide homes for families. We are proud to give back to the community and be a part of something that is greater than us," Kevin says.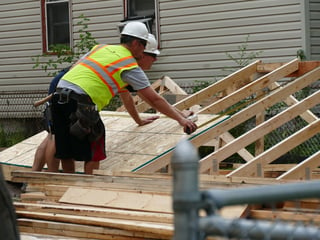 Lyman Companies' eagerness to not only maintain a business relationship with Twin Cities Habitat but also to donate their time and supplies is a testament to the company's commitment to the community. Staff from various departments participated in this year's Habitat house build.
The framing project, which can takes weeks to complete, will be completed in four days, using the equipment provided by Lyman Companies.
TCHFH values strong corporate partnership and looks forward to working with Lyman Companies for many years to come.
To learn more about how your company can partner with TCHFH to help eliminate poverty housing and build a stronger community, please visit our website for more information.