"Always do the right thing," instructs the big block letters on the back of a t-shirt. It's early May on a construction site in North Minneapolis and dozens of workers are moving about in matching green shirts with those same five words which happen to be the Ryan Companies motto. They're the primary sponsor of this home and the kelly-clad workers scattered across the site are Ryan team members. Throughout the course of the year more than 300 Ryan employees (from field staff to the finance team and everyone in between) helped build this two-story, four-bedroom home.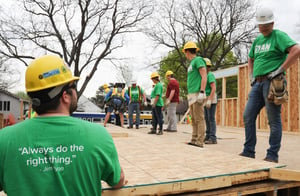 Ryan also used this build as an opportunity to engage their clients, vendors, customers, and other partners in the work they're doing in the community. This year, more than 15 additional companies contributed financial resources and/or volunteer labor to support the Ryan home.
Ryan has been a Twin Cities Habitat partner since 1995, contributing more than $350,000 and providing valuable in-kind goods and services. They had never made a commitment of this magnitude, however, until last year.
"One of our core values is stewardship in our communities," said Jeff Smith, President of Ryan Companies and a Twin Cities Habitat Board Member. "Sponsoring a Habitat home is by far the best way for our team members to be part of a tangible example of this value. The entire experience is incredible."
Ryan was the Legacy sponsor of a home in St. Paul in 2017 and the Minneapolis home this year. They have also committed to another home sponsorship in 2019. In totally, Ryan and their community partners will contribute $450,000 and more than 8,000 volunteer hours over a three-year span.
"Ryan is a great partner because its people share Habitat's values of community and hope," said Cathy Lawrence, Vice President of Resource Development and Community Engagement for Twin Cities Habitat. "They understand building a quality home is an investment in a family and a neighborhood for generations to come."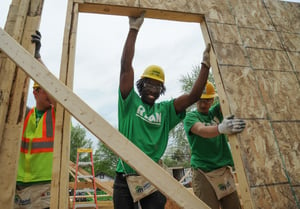 A family will complete the Twin Cities Habitat Homeownership Program and purchase the home Ryan build with an affordable mortgage from TCHFH Lending, Inc. Every family that partners with Twin Cities Habitat works one-on-one with a Homeownership Advisor. Families learn how to handle their homeowners insurance, warranties, yards, and make minor home repairs. They're prepared for long-term success with the knowledge they need and financing that is permanently affordable. Creating these kinds of multi-generational opportunities for families is only possible with strong community support.