Minnesota Lawyer annually recognizes top attorneys for their achievements. We're excited that our friends at Briggs and Morgan, Steve Ryan and Brian Corey, were named "Attorneys of the Year" for their work on behalf of Twin Cities Habitat for Humanity.
Brian and Steve worked with Twin Cities Habitat throughout 2016 and 2017 on one of the most important and complex partnerships in our history: a new relationship with Bremer Bank to finance our Habitat mortgage loans. The results are extraordinary: affordable homeownership opportunities for 500 Twin Cities families, the creation of a Habitat mortgage company, and the largest partnership between a Habitat affiliate and a bank in the nation.
The team at Briggs supported Habitat as we navigated the many complexities of the deal. Brian and Steve helped us establish a wholly-owned subsidiary, TCHFH Lending, Inc., which provides fixed-rate, long-term affordable mortgages. They guided our staff through a variety of regulations and requirements to create the most efficient business structure and execute the Bremer partnership.
"We rave about Briggs any chance we get," said Susan Haigh, President & CEO of Twin Cities Habitat for Humanity. "Steve Ryan and Brian Corey were absolutely critical in helping us first create the right structure of the lending entity within Habitat, then navigate the many operational and mortgage compliance questions that arose, and finally they guided the partnership between Bremer and Habitat to a successful—and very speedy—close."
"It was a privilege to assist Twin Cities Habitat with their goal of making affordable housing more readily available," stated Steve Ryan. "It's incredibly rewarding for Brian and I to take a step back and realize that we had a small part in making homeownership a reality for so many people. This experience has been, without a doubt, a highlight of my career."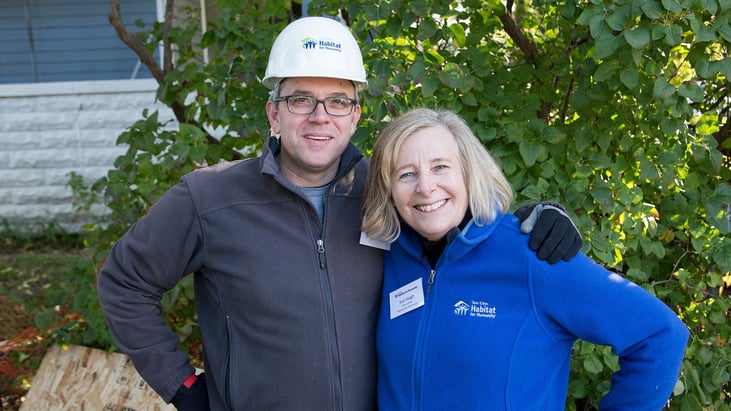 Equally valuable to their legal advice was Briggs' credibility and fairness. Robyn Bipes-Timm, Vice President of Mortgage Lending for Twin Cities Habitat, worked closely with Bremer Bank and the legal team at Briggs and echoes Sue's praise, "Steve and his team were trusted by both sides, he examined all angles, and he was conscientious about balancing the business risks with the goodwill intent of the partnership."
All of this work and support resulted in a partnership that will impact 500 local families in a big way. And that impact will multiply with each child that grows up in a safe, stable home across the Twin Cities area.
Many thanks to Steve Ryan, Brian Corey, and the entire team at Briggs and Morgan for your work on behalf of Twin Cities Habitat for Humanity. Congratulations, Attorneys of the Year!