Twin Cities Habitat is proud to announce that Bremer Bank has committed to be the primary partner in its new Home Loan Impact Fund. Bremer has agreed to purchase up to 500 below-market Habitat mortgages over the next four years, more than doubling the number of local families that can partner with Twin Cities Habitat on affordable homeownership.
"The opportunity to partner with Twin Cities Habitat to make such a meaningful investment in our community is exciting for all of us at Bremer," says Jeanne Crain, President and CEO of Bremer Financial Corporation. "Being a part of making the dream of homeownership a reality for 500 Twin Cities families is in direct alignment with our vision: to strengthen communities and transform aspirations into realities."
"This partnership with Bremer is probably the largest banking partnership a Habitat affiliate has ever had anywhere in the country," says Sue Haigh, President and CEO of Twin Cities Habitat.
Headquartered in St. Paul, Bremer Financial Corporation is a privately held, $11 billion regional financial services company jointly owned by the Otto Bremer Trust and Bremer employees.
The Otto Bremer Trust helped jumpstart Twin Cities Habitat's expansion plans with two $1 million program-related investments in 2014 and 2016. The Trust has also awarded Twin Cities Habitat $450,000 in grants since 2014.
"As an institution that integrates work in finance and philanthropy, we develop investment structures that can solve unique problems," says Brian Lipschultz, Co-CEO and Trustee of the Otto Bremer Trust. "We have been proud to work with Twin Cities Habitat to set the stage for the Home Loan Impact Fund."
Twin Cities Habitat announced Bremer Bank's new funding commitment during a panel discussion on the power of partnerships on Tuesday, February 28. The panel included the leaders from four organizations instrumental to Twin Cities Habitat's expansion: Crain; Kate Wolford, President of the McKnight Foundation; David Reiling, CEO of Sunrise Banks; and Mary Tingerthal, Commissioner of Minnesota Housing Finance Agency.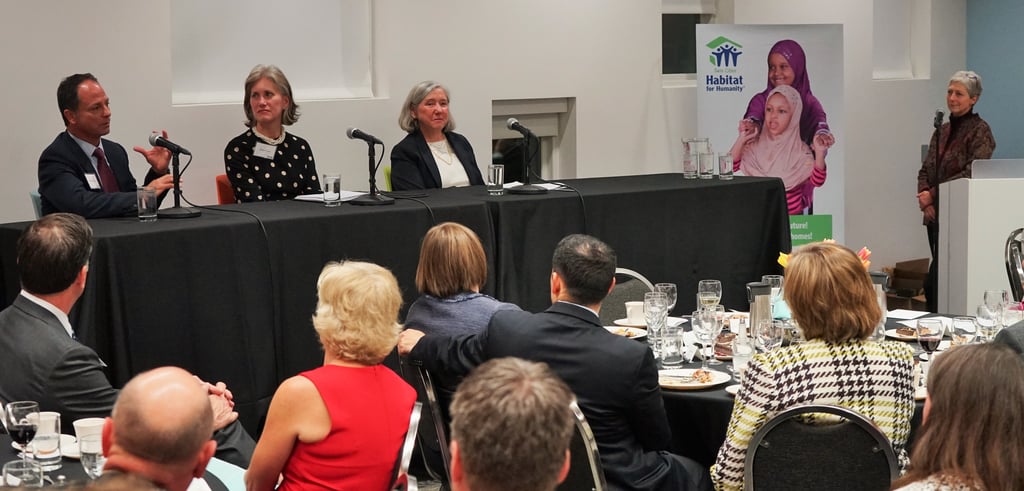 Power of partnership panelist pictured from left to right: David Reiling, Jeanne Crain, Mary Tingerthal, Kate Wolford.
Sunrise Banks, which fully sponsored a Twin Cities Habitat home in 2016, has agreed to provide origination services on all Habitat mortgages.
"We've built a strong partnership with Habitat over the past several years, getting everyone at Sunrise involved," says Reiling. "It's important that we rebuild the trust in banks when it comes to the housing market."
Minnesota Housing has partnered with Twin Cities Habitat on mortgage financing for more than a decade—including a pilot program of Habitat's first interest-bearing mortgages in 2015.
"We are committed to closing the racial gap in homeownership in Minnesota," says Tingerthal. "Minnesota Housing now leads the lending industry by more than 3:1 in providing home loans to households of color, and Habitat is an essential partner in making this happen."
The McKnight Foundation provided an innovation grant that funded the research that led to the expansion of Twin Cities Habitat's homeownership program.
"At McKnight, we want our grants to be leveraged to have the greatest impact possible," says Wolford. "That's what we got with Habitat. Plus, our organizations are aligned on addressing a very big challenge our community faces."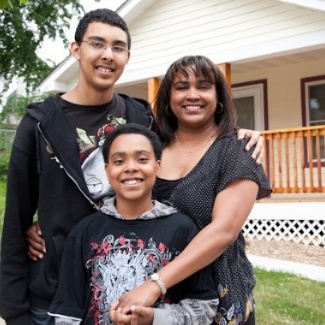 In 2016, Twin Cities Habitat created a new strategic plan, Impact 2020, with its audacious growth goal. Twin Cities Habitat's Board of Directors crafted the plan in response to the economic trends that have negatively affected first-time, lower-income homebuyers over the past several years: rising housing costs, stagnant wage growth, and limited access to affordable capital.
As part of the Impact 2020 plan, TCHFH Lending, Inc. was created as a subsidiary of Twin Cities Habitat to offer mortgages and find lending partners like Bremer.
"Investing in homeownership is key to building strength, stability, and self-reliance with families in our community," says Haigh. "Our smart and generous partners like Bremer, Sunrise, Minnesota Housing, and McKnight see the opportunity and are taking bold steps to make homeownership a reality for more families."
Talks with other community-focused banks interested in partnering on the Habitat Home Loan Impact Fund are ongoing.
More Affordable Mortgages
Twin Cities Habitat first mortgages have a fixed interest rate and are sized so families are paying no more than 30% of their income on housing. Most families also receive a second mortgage at 0% that is forgivable after the first mortgage is paid off.
Twin Cities Habitat is focused on increasing philanthropic giving to cover these second mortgages and unlock the potential—and the growth—made possible by the Home Loan Impact Fund.