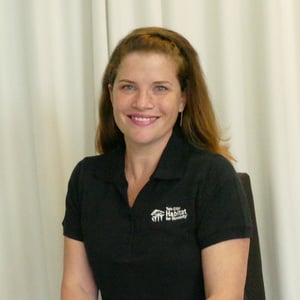 Robyn Bipes-Timm has kept coming back to housing throughout her life. She's the Vice President of Loan Fund and Mortgage Lending, as well as the President of TCHFH Lending, Inc., Twin Cities Habitat's nonprofit mortgage lending company. And she was already working on housing projects in high school and college, painting homes for family friends, and joining a roofing and siding crew in Oregon.
Robyn attended college at Lewis & Clark in Portland, and earned a degree in Art History & Economics (in addition to being an art scholar, she still tries to do some metalwork and glasswork when she finds time). But a trip to Brazil changed the trajectory of her life, arching her vocation toward housing justice.
In Brazil she saw the favelas (slums), areas of immense poverty, butting up against prosperous sections of the city. The inequality was stark, and the experience moved Robyn to do something. When she returned, she decided to earn a Master in Public Policy (MPP) from the University of Minnesota's Humphrey Institute of Public Affairs with a concentration on housing.
"Focusing on community development allowed me to apply my head with my heart," Robyn says.
Robyn joined Habitat in 2016, after nearly 10 years at the Greater Minnesota Housing Fund where she most recently led its affordable housing programs and lending for rental housing and homeownership. This included the Minnesota Preservation Plus Initiative to preserve subsidized multifamily rental housing, with a focus on rural preservation. She also financed the preservation of more than two dozen USDA Rural Development 515 multifamily properties across Minnesota, co-developed a training curriculum on rural preservation strategies, and is author of several rural housing policy papers. Robyn's experience lent itself perfectly to the newly created role at Twin Cities Habitat, where she leads Habitat's expanded mortgage program and Home Loan Impact Fund.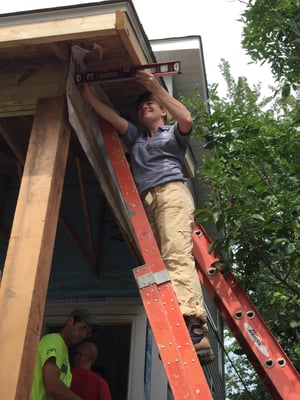 Very few Habitat affiliates were doing what Twin Cities Habitat was doing – building partnerships with banks to create a large loan fund that would more than double the number of homeownership opportunities – and Robyn was up for the challenge. She was drawn by Twin Cities Habitat's reputation for innovation, and she was excited for the chance to work for Sue Haigh and an amazing leadership team comprised mostly of women.
Robyn hit the ground running. Her first year at Twin Cities Habitat was all about creating partnerships and building the foundation for something that hadn't been done before. By June 2017, just a year after Robyn started, we secured a $98 million-dollar partnership with Bremer Bank to fund up to 500 affordable Habitat mortgages over four years—the largest banking partnership in the history of Habitat for Humanity. At the same time, we built strong partnerships with Sunrise Banks to provide origination services on all those mortgages, plus new partnerships with Fidelity Bank and Klein Bank that expands our ability to serve more families. And the partnerships only continue to grow.
We're already seeing the impact of these partnerships. By June 2018, more than 1,200 new Habitat homebuyers have purchased Habitat homes or homes on the Open Market with our new affordable Habitat mortgage.*
"Robyn has been instrumental in securing the banking partnerships that will make possible our audacious homeownership program expansion," says COO Pamela Wheelock. "Her dedication to the mission means more families than ever can buy a safe, affordable home with Habitat. We're so grateful for her leadership and tenacity."
With these amazing partnerships now in place, Robyn and her team have shifted focus to building awareness of our new mortgage product and networking with realtors and lenders. As more Habitat homebuyers get out in the market with their affordable Habitat mortgages,* folks in the industry are taking note (a recent Star Tribune article chronicled the homebuying journey of Kera LeSure using a Habitat mortgage on the open market).
Robyn's favorite part of her work are the simple celebration moments: at an open market home dedication where 10+ families gather to celebrate their homes they recently bought with Habitat's mortgage*; at the closing table, where homebuyers get the keys to their new home with great joy from Maureen Holman, Habitat's Community Loan Officer; or on a Lyft ride to the airport when Robyn learned the driver had just become a Habitat homeowner.
With Habitat, her team gets to move the "not possible" to "possible" alongside families. The lending team takes an individualized approach for each situation, and that flexibility allows families who might have been turned away by conventional lenders to become successful homeowners. And once the homebuyer has the keys to their home, Robyn often hears "but for Habitat...I wouldn't be here."
Robyn's passion for housing justice seeps into other areas of her life, too. She owns rental property in Greater Minnesota that she maintains and rents to lower-income households—families who need a decent, affordable place to live before they too can make the jump to homeownership. Folks not unlike those partnering with Habitat.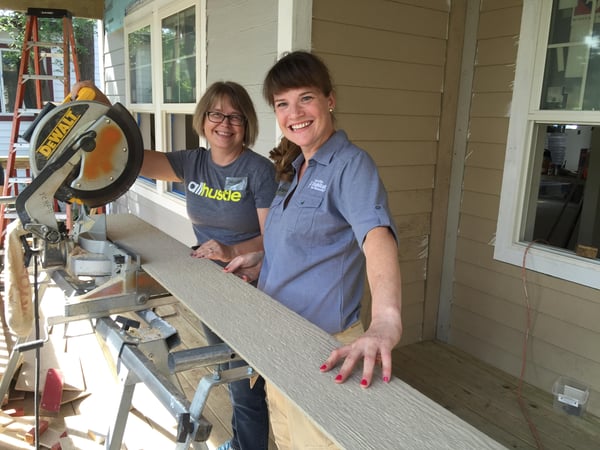 In the summer, you might find her doing rehab on her own home or running around Lake Harriet with her new puppy. In the winter, she works alongside her husband's family at their organic farm in Wisconsin, turning maple sap into syrup. She loves to travel, including with Habitat—her favorite Habitat memory thus far is her Global Village Trip to Nicaragua where the team of 22 volunteers built two houses in one week alongside families there.
*All Habitat mortgages are originated by TCHFH Lending, Inc., which is Habitat's wholly-owned nonprofit mortgage company.