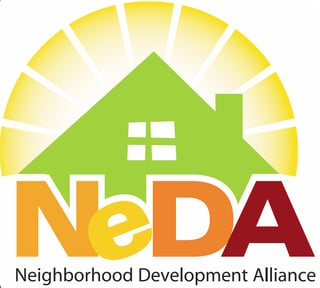 For more than 25 years, the Neighborhood Development Alliance (NeDA) has been investing in the West Side of St. Paul – and across the Twin Cities – making it a better place to live. Whether it's building affordable housing, providing wrap-around financial counseling, or connecting people to needed resources, NeDA is there. NeDA's all about collaboration, and we're very proud to partner with NeDA in empowering people to become homeowners.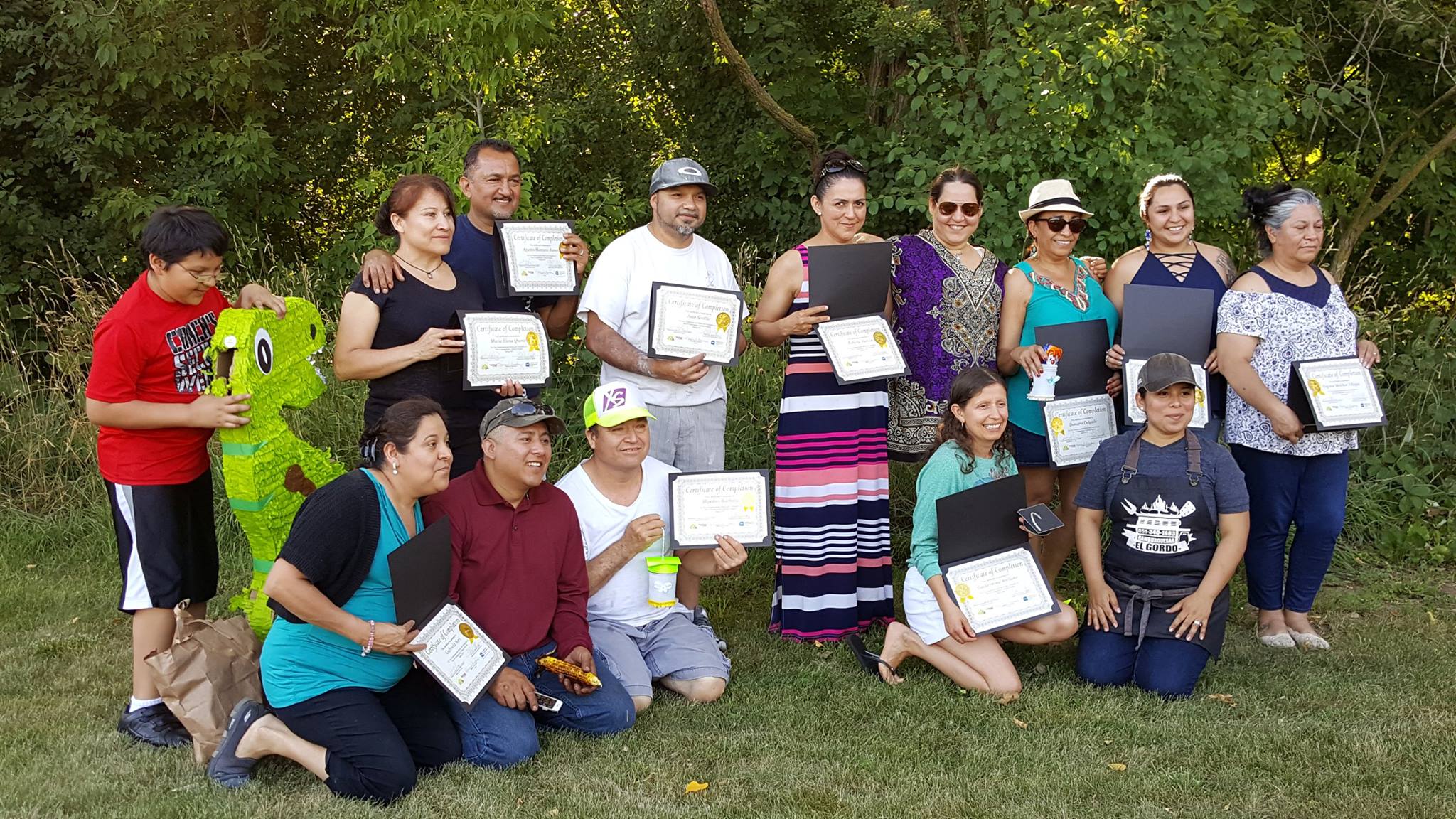 Graduates from a NeDA program
In the late 1980s, a group of residents came together, led by Father Steven Adrian, to address the lack of quality, affordable housing on the west side. NeDA was born. They transformed run-down buildings and empty lots into apartments and homes that were both beautiful and affordable. Since then, they've built or rehabbed more than 200 units of affordable housing.
NeDA is known for adapting to the needs of the community. In the 1990s, they started translating all of their programs and educational opportunities into Spanish. They started offering foreclosure prevention counseling during the recession, and have helped hundreds of families stay in their homes. They became a Community Development Financial Institution, bringing low-interest home improvement loans and other resources to the community.
The staff at NeDA have always been all about collaboration—whether that's with people looking to buy a home affordably, or with other organizations in the community. NeDA partners with Metropolitan Consortium of Community Developers (MCCD) to provide small loans to help people build their credit. They partner with Lutheran Social Services to bring credit counseling and debt management plans to Spanish Speakers. And they partner with Twin Cities Habitat for Humanity to offer more homeownership opportunities.
"I always mention Habitat for Humanity as an option, especially for my low-income clients. It can be a key to low-income clients owning a home," says Mariana Scott, one of NeDA's four financial counselors and homeownership advisors. Alongside Mariana, Roxanny Armendariz, Graciela Mendez, and Felix Martinez Paz fill out the NeDA homeownership counseling team. All of them speak Spanish and English fluently, and are cross-trained and certified through multiple state and national entities.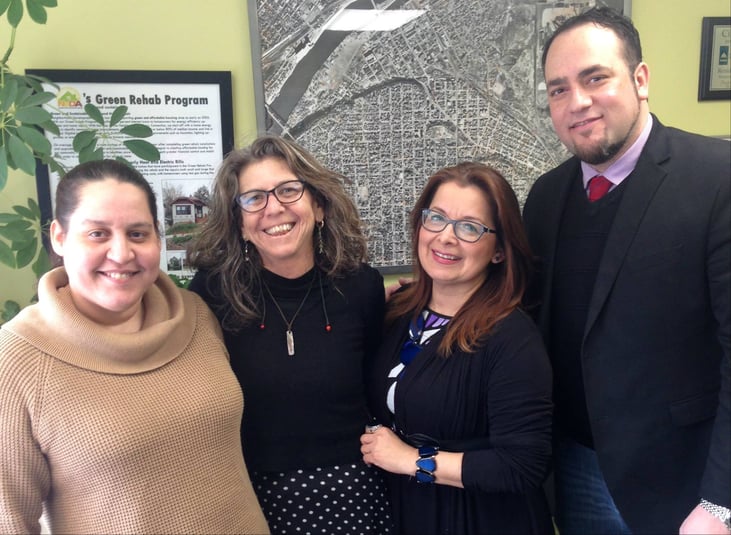 From left to right: Roxanny Armendariz, Mariana Scott, Graciela Mendez, and Felix Martinez Paz
There's no income or geographic restrictions to work with a NeDA financial counselor or homeownership advisor, making them a good option for those looking to buy an affordable home. NeDA counselors know Twin Cities Habitat's mortgage criteria well, and will work with clients for as long as it takes to achieve their dream of homeownership.
"The first meeting can be one and-a-half to two hours," said Graciela. "We go through everything they'll need to buy a home. From there, it depends on how ready they are for their timeline. For the most part, we educate, and check in once a month or once every three months. "
"We take a realistic approach and talk about what the client really needs to work on," Roxanny added. "The whole process can go as quickly as three to six months, sometimes 24 months, sometimes even longer. There's not a timeline on our end—it's driven by the client."
NeDA counselors work with clients to identify barriers to homeownership. A common one is a low credit score. They'll work on strategies to raise it, and pull in more resources if the client qualifies—like a credit builder loan.
The same goes for savings. They make sure their clients have enough saved for the down payment, and the budgeting skills to continue making payments. They can also pull in more resources here, like FAIM 3:1 matching grant for low-income clients who qualify.
For first time homebuyers, NeDA counselors offer HomeStretch workshops in English and Spanish every other month. These classroom-based workshops teach first time homebuyers what to expect on their journey to homeownership. They also offer Framework, an online course similar to HomeStretch.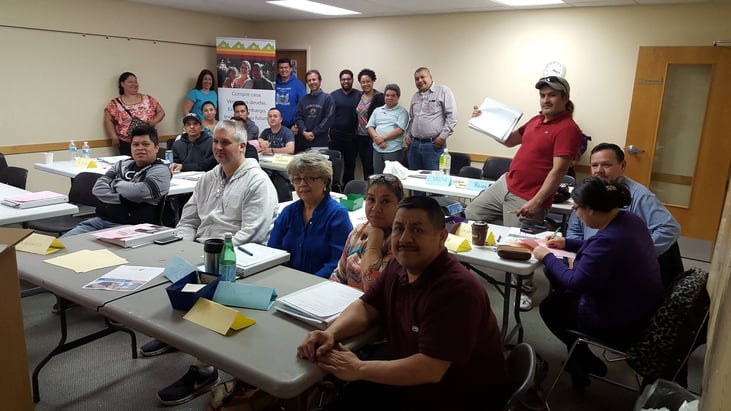 Participants in a NeDA HomeStretch Workshop
NeDA has great experience at putting partnerships to work to benefit the community.
"Strong partnerships mean we can better help the client, and there are more resources available to the client," said Mariana. "It's helpful for us to know we're handing off the client to a trusted partner."
"We don't need to reinvent the wheel—so why don't we collaborate?" added Roxanny.
When NeDA refers someone to Twin Cities Habitat, we know they're well prepared to buy a Habitat home. That's why Habitat intake staff highlight the qualified homebuyers referred from NeDA, and the rest of our referral partners, and consider their referral status in the matching process.
"It is so exciting to talk with current renters who imagine themselves as homeowners. Working with an experienced advisor or counselor makes a world of difference for first time homebuyers," said Jessa, Intake Coordinator at Twin Cities Habitat for Humanity.
The counselors at NeDA are a wealth of financial knowledge and resources. Here's one helpful tip for those getting ready to buy a home: Don't buy a lot of stuff with your credit card before closing on your home! When you're close to closing, it can be tempting to put new furniture and home goods on credit. But you want to make sure you lock in the best interest rate you can, so don't do anything to jeopardize the credit you worked hard to build.