Social media builds buzz. Twin Cities Habitat for Humanity builds homes. Wouldn't it be great if social media could help build homes too? That's one hope growing out of our partnership with IBM.
In the fall of 2014, a team from IBM performed an analysis of Twin Cities Habitat's social web presence (which you're experiencing just one small piece of right now!) to help determine how we could best engage both the thousands of people who volunteer and donate to our mission each year and the greater Twin Cities community. After all, the second half of our stated mission, " make decent, affordable shelter for all people a matter of conscience ", sounds like an ideal opportunity to gain momentum from social media.
Twin Cities Habitat strives to put every dollar we can toward the programs and services that help our families and neighborhoods succeed which made this in-kind donation of time and talent from IBM a true blessing. The opportunity came via Barry Mason, Vice President IBM and a member of Twin Cities Habitat's Board of Directors. Barry and his wife Sharon are long-time supporters of Habitat for Humanity's work in the Twin Cities and around the globe, having volunteered and built together with Habitat in El Salvador, Haiti, and Costa Rica.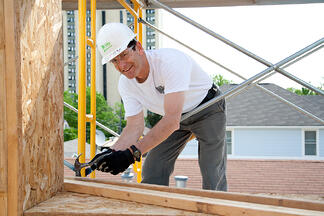 "Sharon and I have a strong sense of the benefits of home ownership in terms of building healthy families and communities. Habitat for Humanity has a proven approach for engaging homeowners, volunteers, and community organizations to significantly impact this challenge."
Amit Puri, Senior Solutions Manager in Advanced Analytics with IBM, performed the actual analysis of Twin Cities Habitat's web presence. He began by working with staff to identify other organizations that Twin Cities Habitat could be compared against in the realm of creating online buzz. Using IBM's Social Media Analytics, Amit and his team scoured the Internet, sliced and diced the data, and broke it into bite sized chunks that we could digest and strategize around.
Here are some of the findings:
Habitat for Humanity's work generates a lot of earned media attention on traditional news sites around the country. Generally, multiple new news items each day are posted online about Habitat.
The greatest online buzz for Habitat for Humanity is generated around volunteers and organized events such as wall raisings, home dedications, and fundraisers.
Homelessness is an emerging topic on social media. Although combatting homelessness isn't a primary focus of Habitat's main service programs, it is linked to the part of our mission that states we want to make decent, affordable shelter for all people a matter of conscience.
Habitat's online buzz is characterized by peaks associated with the launch of large housing projects or corporate partnerships. There is an immediate fall without sustained conversations for nearly all online Habitat buzz.
The "youth" demographic is an area of opportunity for Twin Cities Habitat to amplify conversations on social media.
Where do we go (online) from here?
An online fundraising/awareness campaign that goes viral, bringing in a flood of new support, is the Holy Grail for nonprofits when it comes to social media. Of course, until someone invents the "viral" button for the Internet, that's going to be easier said than done. But the insights we gleaned from the IBM analysis point to some opportunities that we are going to try and capitalize on.
Build campaigns to extend interactions
IBM's data showed that in general online buzz around Habitat for Humanity quickly dissipates after an item is posted. To counteract this Becky Engen, Digital Marketing Manager for Twin Cities Habitat and a regular contributor to this blog, created the Take 5. Give 10. campaign. The idea is to hook people who are newly exposed to Twin Cities Habitat into greater engagement by having them take five minutes to pledge to volunteer and then make a $10 donation to financially support Habitat projects. The campaign was launched with a series of videos and photos related to people failing at New Year resolutions (#resolutionfail). People who see the content online are then encouraged to resolve to change the world by supporting local families and the work of Habitat for Humanity.
Engage on the topic of homelessness
Building, rehabbing, selling, and repairing homes are the primary services offered by Twin Cities Habitat for Humanity. Housing homeless people is not on that list. But advocating for policies that lead to an end of poverty housing has become a larger part of Twin Cities Habitat's work in recent years. That's why we are part of the Homes for All coalition, a collection of housing-focused groups each working on a unique part of the continuum of housing needs in Minnesota - from homelessness through homeownership. The Homes for All partners focused on homelessness include the Minnesota Coalition on Homelessness, Churches United for the Homeless, and Downtown Congregations to End Homelessness.
Homes for All is designed to unify housing advocates and help them speak in one voice when dealing with Minnesota lawmakers on funding allocations. IBM identified homelessness as an emerging topic in social media. One way we plan to tap into this audience is through online engagement and interaction with our Homes for All partners who specialize in helping those experiencing homelessness.
Get the kids involved
Youth United is Twin Cities Habitat's way of getting young people involved in the mission of Habitat. Often the group focuses on fundraising activities. Empowering these young people to be online advocates for Habitat and encouraging them to drive conversations around the importance of a stable home for a child could lead to new audiences being exposed to Habitat's messages.
The beauty of the Internet is that it gives everyone a voice, and people passionate about a topic can have a huge impact. That's partly why, when it comes to social media, the nonprofit world is just as competitive today as the for-profit sector (except the budgets are much smaller). We at Twin Cities Habitat are very grateful to IBM for providing the resources needed to better understand our audience and our opportunities. Hopefully this knowledge, when combined with some clever marketing, will help us generate content that rises above the din and generates those precious shares and likes.