Women are most often leading the way at Twin Cities Habitat for Humanity, whether they're on our executive team, our board of directors, our construction sites, or anywhere in-between. And, if you're looking for a way to multiply the positive impact you can have on our community, there's a place for you at Twin Cities Habitat.

The commitment can range from one day of volunteering, to raising your voice as a Housing Hero advocate, to serving a full year as an AmeriCorps member. You (or someone you know) may even want to partner with Twin Cities Habitat on buying a home.

Here are a few of the ways you can be empowered (and empower others) through Twin Cities Habitat.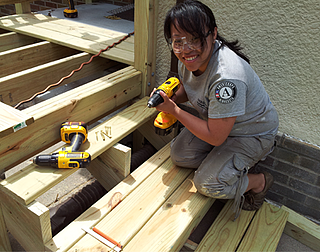 Join AmeriCorps (or suggest it to someone you know)
The women who serve as AmeriCorps members at Twin Cities Habitat learn to build and repair homes in partnership with families, lead construction volunteers, and gain memories that last a lifetime. AmeriCorps members get a living allowance, health care, money for school, and some student loan forbearance benefits. We are recruiting full-year and shorter-term positions. No construction experience is required, just enthusiasm for serving others.
Join Women Build
Women have always been leaders in the Twin Cities community when it comes to social causes. So it's no surprise that one of the first Women Build homes ever done by a Habitat affiliate was done here in the Twin Cities, way back in 1991. Each year, women return to participate as volunteers, volunteer Team Leaders, fundraisers and committee members. They build and repair homes with all-female crews. Don't think you can build a home? Think again. Women Build members and Habitat Site Supervisors are great at teaching people new skills in a positive and supportive environment.
Attend the Hope Builders Luncheon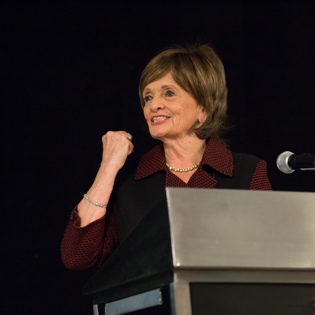 Each fall, Twin Cities Habitat organizes a different kind of fundraising luncheon. We bring together an all-female panel of distinguished leaders to discuss a major issue facing our community. In the past we've addressed the links between housing and health outcomes with a panel of doctors and health company CEOs.
One year, Marilyn Carlson Nelson, the former Chair of Carlson Inc. and a global philanthropic leader, explained how big challenges like housing require a three-pronged approach combining the efforts of business, government, and nonprofits.
These luncheons are a great opportunity to hear from the women who are leaders in many fields. Bring your friends (ten of you will fill a table) and enjoy a great lunch and a lively, intelligent, and inspiring conversation.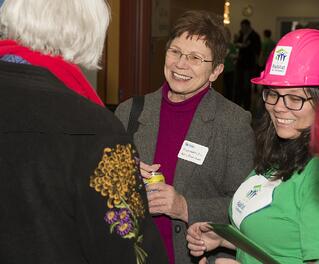 Be a Housing Hero Advocate
It seems like more people than ever are looking to engage our political leaders right now. Being an advocate for a cause you believe deeply in can be surprisingly effective—especially on the local level. Back in 2008, Twin Cities Habitat began organizing its supporters who wanted our elected leaders to work harder on making Minnesota the greatest state in the nation in terms of housing its residents.
Today, these Housing Heroes engage in all sorts of actions, including sending emails, signing petitions, attending meetings and hearings, and visiting directly with their representative at the local, state, and national levels.
By engaging in the process in this way you really can make a difference. Twin Cities Habitat is a partner in the Homes for All coalition, and in 2014 our Housing Heroes helped secure $100 million in bonding for affordable housing across the state. It was a great jump-start, but the need remains immense. Today, the Homes for All coalition is making progress on reducing homelessness in the Twin Cities (but much more work is needed). Right now is the perfect time to become a Housing Hero because Minnesota lawmakers will be working on their budget priorities from now until May.
Please join us at the capitol in St. Paul on Tuesday, April 18 for the annual Habitat on the Hill – Minnesota event. It's free, easy to be a part of, and a great way to have your voice heard.
Buy a home or get repair help
About 20% of Twin Cities Habitat's homebuyers are female-led households. They make up an even greater percentage of those who partner with on paint and repair projects through our A Brush with Kindness program. We've recently increased the upper limit of our income eligibility level for our programs. You can see them here. We've also expanded our Homeownership Development program so some buyers can find their own homes on the open market and partner with us on one-on-one financial coaching and affordable financing.
Whichever ways you choose to engage with Twin Cities Habitat, know that your impact is multiplied because of the immense and long-lasting effect decent housing has on every aspect of our lives.