The AmeriCorps group at Twin Cities Habitat for Humanity spend their days guiding volunteers on-site, repairing homes with ABWK (A Brush with Kindness), and working with partner families. All of their efforts promote and support homeownership, but at Twin Cities Habitat we acknowledge it takes several different options for all Minnesotans to have housing.
To further understand housing issues in our state, 13 Habitat AmeriCorps members and two Lutheran Volunteer Corps members, participated in "A Day in the Life" hosted by St. Stephen's Human Services.The experience simulates a day in the life of a person experiencing housing insecurity. Participants learn about the challenges of gaining permanent housing when experiencing homelessness.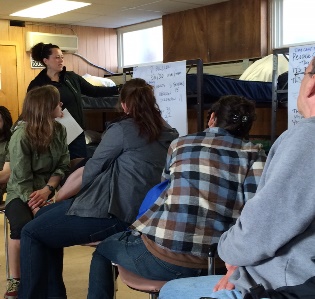 At the beginning of the day, unsure of what we would encounter, we shared our thoughts on homelessness and talked about misconceptions. Quickly we learned the face of homelessness is not the older man panhandling on the street corner. Monica Nilsson, Director of Community Engagement at St. Stephan's, pointed out if there were 100 homeless people in Minnesota, 46 of them would be under the age of 21 and 25 would be women over the age of 18.
During the day we set out on foot to visit several local organizations that address the needs of the homeless. Each place we visited served a different population. For instance, at YouthLink we learned that homeless youth have specific needs, such as finishing education, different from what a family with small children may need.
At another, People Serving People, the largest family-focused shelter in the region, we learned that they pay special attention to what it takes to help families find stable housing. They serve 365 homeless children and adults each night with an average stay of 39 days. During that time, families can use resources such as childcare, tutoring for school aged and preschool children, health services, and a case manager to help with a job search and a permanent housing solution.
Each organization we visited opened our eyes and our hearts to the struggles and barriers to housing that cause homelessness. We saw first hand that without a permanent address, mental and physical health conditions deteriorate and over-stress limited resources. We came away with a new understanding of what homelessness looks and feels like.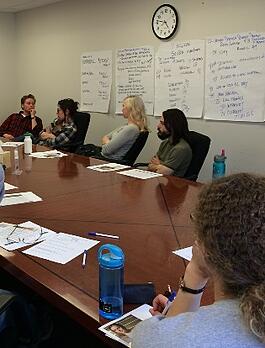 After a day on our feet, we regrouped to discuss what we learned and what can be done. We were tired, mentally exhausted and more confident in what we could do to make a difference.
Nilsson believes the work done at these organizations "can't end homelessness all at once, but we can end people's homelessness."
With more awareness of how people can gain stable housing we came to the conclusion that creating more types of housing: affordable rentals, supportive housing, as well as homeownership, we can prevent and help remedy homelessness. The solution will take support from many different areas and many different people. On the state and local level we can encourage legislation, which prioritizes affordable housing, and in the community we can utilize volunteers and challenge untrue stereotypes of homelessness.
Although we got a glimpse of what homeless Minnesotans experience, we got to return to our own beds that night. As a result of what we saw and learned during the day the value of our time at Twin Cities Habitat for Humanity became clear. Working toward creating safe and stable housing is vital to the success of our communities and necessary if we want to live in neighborhoods where everyone can thrive.