Minnesota must get its housing in order. Years of steady cost increases and stagnant wage growth have broken home economics across the state. Today's families must spend significantly greater percentages of their income just on housing (25% of Minnesotans, and 45% of our renters, are cost-burdened and spending more than 30% of their money on housing). This squeezes budgets and forces painful choices that will have long-term consequences—both for individuals and our entire state.
Housing is a multiplier, a basic need that impacts every part of life: education, health, economic success. Minnesota suffers from horrible racial disparities in housing (three out of four white families own their own homes compared to less than one in four African American families). So, if we act now, and invest heavily in this critical piece of our infrastructure, we can multiply the impact for everyone in the next generation.
The Governor's Task Force on Housing has 30 recommendations to address this statewide crisis. The Task Force calls for innovative, cross-sector, partnerships and we at Twin Cities Habitat are eager and ready (with your support) to translate the recommendations into realities.
In fact, we're working on several already.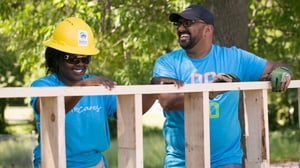 A 2017 partnership with Bremer Bank has more than doubled the number of families who are able to purchase homes with affordable Twin Cities Habitat mortgages. Together we have opened the market to help families buy homes in the communities of their choice.
Bremer's CEO Jeanne Crain, who co-chaired the Task Force, was instrumental in getting this done. The partnership is mutually beneficial and designed to be a model that other community-focused banks can use to reach under served populations.
Going forward, we can do even more to partner with municipalities and corporations. We will continue exploring land trusts and equity-sharing as ways to lower barriers to homeownership.
Businesses across Minnesota told the Task Force a lack of housing threatens their growth and future competitiveness. Tech companies have offered down payment assistance as a benefit to workers for years. Doing more of that here will attract and retain a workforce that is large, strong, and stable for generations.
The Task Force calls for building 300,000 new homes in Minnesota by 2030. That's a big goal. We want to partner with for-profit builders to secure the money necessary to make this happen.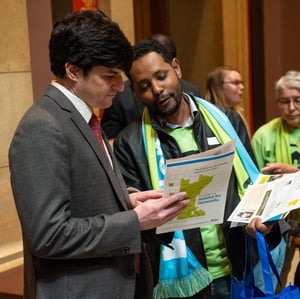 Habitat Housing Hero Advocates called for a new dedicated, permanent funding stream to build housing during the last legislative session. It didn't pass. The Task Force has endorsed the idea and we will be calling for it again at the legislature in 2019. You can raise your voice and help make this happen!
We will also lead in ensuring all these new homes meet the standards Minnesotans deserve. We are proud to be the top builder of ENERGY STAR rated homes in the state and we promise to continue to innovate when it comes to efficiency. Currently, we are partnering with the University of Minnesota to design walls that will hold up better to our extreme weather.
Along with strengthening homeownership, we will continue tackling several other recommendations from the Task Force. Our home repair program, A Brush with Kindness, grew from a partnership with Minneapolis-based Valspar in 1998. The program proved so effective at stabilizing families and entire neighborhoods that Habitat affiliates across the country replicated the model. Twin Cities Habitat has now completed more than 2,000 home repairs.
Our foreclosure prevention counseling also increases housing stability. These services helped literally thousands of local families avoid losing their homes during the housing collapse.
Our Homeownership Advisors do pre-purchase work with hundreds of families a year so they're ready for all the responsibilities of homeownership.
I came to Twin Cities Habitat because I am committed to its mission and all the ways we can eliminate poverty housing from our community. And it thrills me that more than 200 businesses and corporations, 15,000 individual volunteers, and 6,000 financial donors join us each year. If you're not among them, now is your chance. We need you. Our state needs you.