This spring, Twin Cities Habitat will kick off two projects with groups from the University of Minnesota using new technologies and solutions to improve home efficiency and durability.
The collaboration involves the Cold Climate Housing Program (CCH), which is a part of the College of Food, Agricultural and Natural Resource Sciences; and the U's College of Design's Center for Sustainable Building Research (CSBR). Although this is not the first partnership that Habitat has formed with the local university, it is definitely one that both Habitat and the U of M groups are excited about.
"This is a great opportunity for us to build higher quality homes with minimal additional costs to us, all while building relationships through our community partners," said Chad Bouley, VP of Homebuilding at Twin Cities Habitat.
"Habitat for Humanity is always thinking ahead and pushing the envelope on how they implement sustainability and efficiency," said Dan, one of several researchers from the CSBR at the University of Minnesota. "The way they build homes and the quality is exceptional. That's what makes them an ideal partner for a project like this."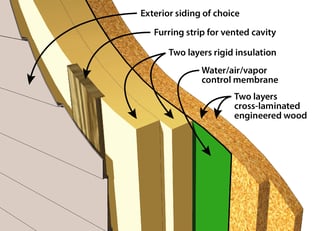 The project involves the construction and comparison of three different homes. One will be built to EnergyStar V3 standards using Habitat's current building and insulating methods. A second OptiMN home will use a traditional building structure, but will move most of the insulation to the exterior of the house frame. The third Monopath home will be built using pre-fabricated OSB (oriented strand board) panels to create the new building structure and a robust moisture barrier and insulation system on the exterior of the home.
"All houses must have control layers-- air control, water vapor control, thermal control and bulk water control," Steve from Monopath explained. "But where we put them is what we're testing with the Monopath and OptiMN homes."
The work is being done through a collaboration with the UM Cold Climate and the CSBR, via a grant funded by the US Department of Energy. Further, Centerpoint Energy's Conservation Improvement Program has offered to partner with funding and resources to help make the builds successful. The end goal of the project is to have proven technology and structures that can improve durability, energy efficiency, and air quality over a conventional home — all with minimal or no increases in the cost to build.
Each of the homes are also designed to be Department of Energy Zero-Energy Ready Homes. This means that along with high comfort and air quality, the efficiency will be so high that if the homeowner wanted to install solar in the future, the house would be net zero energy.
"In Minnesota, we have the unique challenge that we need walls that can withstand extreme cold, extreme heat, heavy winds, and moisture—in all its forms," said Habitat President and CEO, Sue Haigh. " Because of our unique mission, we're able to explore ideas that for-profit builders would pass on because it wouldn't immediately help their bottom line. Through this incredible partnership, if we can figure out a way to implement additional energy efficiency in our homebuilding process in a cost-efficient way that utilizes volunteers, then professional builders should be able to replicate it. And that feeds our ultimate mission of eliminating poverty housing from our community."