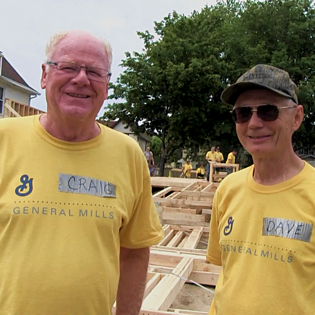 Twenty-five years ago General Mills sent out a team of employee volunteers to spend a week working on a homebuilding project with a still-young organization called Twin Cities Habitat for Humanity. None of the volunteers really knew what to expect when they got to that first home site, but having a day out of the office and a chance to work with their hands was enough to motivate them to volunteer. Three of those original volunteers have continued volunteering for all 25 years General Mills has been a Habitat Partner.
Pete Jensen, Craig Blackman and Dave Harmann, all retired from General Mills over the years, but none of them retired from working on Habitat projects. Jensen and Blackman have become part of the General Mills regulars crew known as the "General Mills Alumni", and all are working on this year's homebuild. The project is part of the 30th anniversary celebration for Twin Cities Habitat.
Over 100 people in 25 families were able to buy affordable home thanks to the efforts of the approximately 10,000 volunteer days made possible by the partnership. The volunteers are part of the history of the homes and each has had a powerful positive impact on the lives of the families that will echo for decades to come through the lives of all the children who have been helped.
In the summer months the General Mills Alumni work on the company sponsored home build as well as on other builds where their time and expertise may be needed. In the cooler months the crew heads to the panel plant to build the wall panels used to help speed construction of all Habitat homes.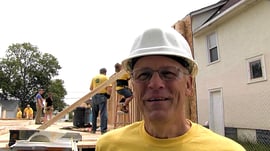 "Today we get to see panels being put up in a home," Pete Jensen said. "From the panel plant to here, it's like being able to see from the beginning to the finished product." When asked why he's stayed involved with Habitat for some many years, Jensen said, "It's about being a small part of building 50 homes this year to provide affordable housing for families that really need it."
Jensen also likes being part of a crew of regulars. He likes providing, "continuity as as new volunteers come into a build and helping them learn new things." He also likes mixing with volunteers who are still working at General Mills to, "see what's going on back home, so to speak."
Interest in hearing what's going on at the company day was echoed by retirees Craig Blackman and Dave Harmann, but each has other things they particularly enjoy about being on a build.
"It's fun," Blackman said. "I like learning a lot of different things and new skills, and you get to learn something new on every build."
Harmann added, "But you don't have to have skills to volunteer. The Habitat crew, or the regulars, will teach you everything you need to know."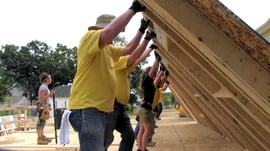 Blackman said, "I like watching people who have never volunteered or done any of these things learn something new, like hanging drywall, and walk away from the day being able to do something they've never done before."
Both men were thankful that they worked for a company that supports their employees being involved with organizations like Habitat. "It's good for employees and it brings people closer together," Blackman said.
On July 15th the General Mills home build site in the Jordan neighborhood of North Minneapolis will host Twin Cities Habitat for Humanity's official 30th Anniversary Celebration. The anniversary would have little meaning were it not for the host of generous partners, like General Mills, that continue to support Habitat year after year.
To find out how your company can become a partner of Twin Cities Habitat, click on the link below. To find out how you can personally volunteer or donate to Twin Cities Habitat for Humanity, go to www.tchabitat.org.