Nothing says summer like sun, BBQ, live music and your favorite cold brew. Plus, it's even better if you get to enjoy these things while supporting a great cause. Approximately 1,350 people attended the 5th annual Blues, Brews & BBQ event Saturday August 6, 2016. This unprecedented number broke the previous attendance record of 1,200. Mount Olivet Lutheran Church of Plymouth hosted the event on its spacious campus as part of its Higher Grounds music series.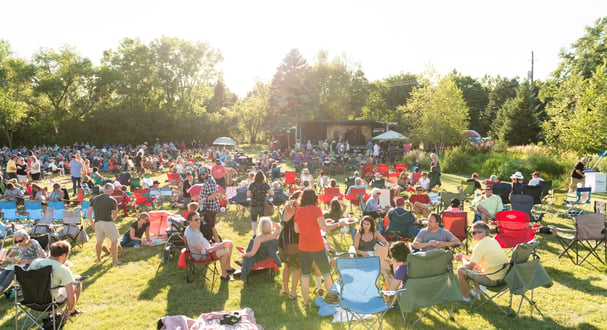 Bigger than just an outdoor music festival, Blues, Brews & BBQ is a community-wide event featuring live music, local craft breweries, and pit-master BBQ. With the help of over 90 volunteers, attendees were treated to a fun-filled family event.
In addition to live music, craft beers and tasty BBQ, people took part in a 2K/5K walk, roll or stroll, face painting, magician and balloon animals, a photo booth, lawn games, raffles, a Home Depot kids workshop, and a Twin Cities Habitat for Humanity furniture building workshop.
Since its inception, Blues, Brews & BBQ has used its platform to bring the community together and support the work of Twin Cities Habitat for Humanity and PRISM, a social service agency for individuals seeking food, clothing and shelter. The organizers see these two organizations as "community partners bringing people together to create stability for neighbors in need."
In just five years, Blues, Brews and BBQ has drawn in over 5,600 enthusiasts. The first four years of the event raised more than $56,000 to fund Twin Cities Habitat for Humanity build sites and to support PRISM in providing social services to the community.
Anne Elliott-Thul, Manager of Volunteer and Constituent Programs for Twin Cities Habitat for Humanity, expressed her delight in not only the turnout but also in everyone having a great time engaging with one another and all of the activities.
"Blues, Brews & BBQ continues to be a wonderful event put on by Mount Olivet Church of Plymouth! The music and food were great, and the event was organized so well. Twin Cities Habitat for Humanity is proud to be one of the beneficiaries of this wonderful fundraiser each year."
Twin Cities Habitat for Humanity looks forward to continuing its partnership with this great community event for years to come.
To learn how you can partner with Twin Cities Habitat for Humanity to help families build better lives for themselves and their families, visit our volunteer page.