By Sean Koebele
Volunteer and Constituent Engagement Associate
Twin Cities Habitat for Humanity
Winter in Minnesota is the slow season for St. Paul's unit of the U.S. Coast Guard Marine Safety Detachment (MSD). As the rivers freeze over and boat traffic halts for the season, the troops focus their time and energy on safety and mechanical training, administrative work and integrating into the community they serve. They spend one day a week out of the office, engaging in the community. For the past two winters they've partnered with Twin Cities Habitat for Humanity.
The servicemen have become an important part of our winter volunteer labor force. We know we can count on them every Thursday to help us finish Habitat homes for the families we serve. They are a small but mighty crew. Usually 4-6 guys are able to make it out to site for a day of hanging drywall, painting, installing trim or laying flooring. On one particular cold December afternoon I found two of them blowing insulation into the attic of a North Minneapolis home.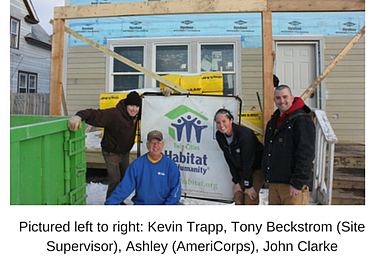 Kevin Trapp, Machinery Technician 2nd Class, was bundled up outside so he could dump bags of insulation into the blower. His crewmate, John Clarke, Boatswain Mate 1st Class, was up in the attic making sure the blown insulation was spread evenly. Kevin and John said they love volunteering for Habitat for Humanity because it gives them a chance to get better acquainted with the community and feel more connected. As servicemen, they often move from city to city as their assignments change and volunteering helps them feel at home more quickly.
"I didn't grow up in this community, but volunteering with Habitat is helping me to learn and be a part of the regional culture," said Kevin. John appreciates that he's learning new skills all the time. He's hoping to purchase a home of his own one day and he thinks his time spent volunteering with Habitat will make him a better homeowner. "I'm learning how to use tools I've never used before and I know I'll need that knowledge to take care of my own home," he said.
The servicemen of the U.S. Coast Guard MSD have a few more months to help us build homes for deserving families and then it's back to the open water. When it's not winter, they spend much of their time on the boat, patrolling the Upper Mississippi, the St. Croix and the Minnesota Rivers. We're grateful for guys like Kevin and John who not only serve their country in the military, but also volunteer their time to help improve the community they call home.
Perhaps winter is a slow season for you as well. If so, volunteer with Habitat for Humanity this winter. The bitter cold might push us inside, but it doesn't stop us from working. We have volunteer needs all winter long and most opportunities are indoors. You could help with interior finish work on one of our many homes in progress or volunteer to help out at our ReStore, which is always nice and warm! For more details, visit www.volunteer.tchabitat.org.