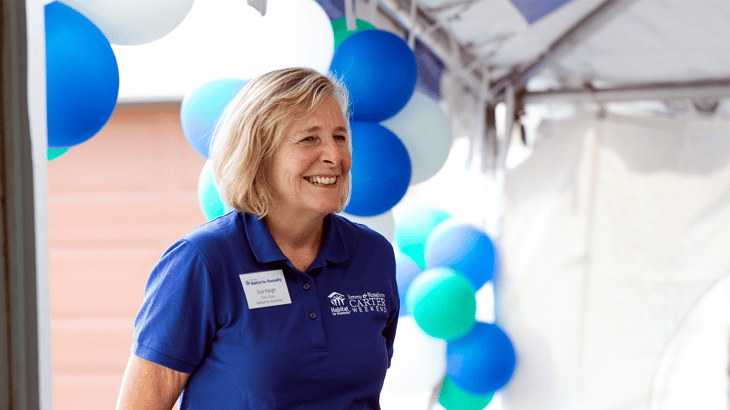 After 13 remarkable years leading Twin Cities Habitat for Humanity and decades of public service, Susan Haigh is announcing her retirement, effective June 1, 2018. Haigh has dedicated her career to the strengthening of communities and the advancement of the region.
As President & Chief Executive Officer, Haigh has led Twin Cities Habitat through significant innovation and growth, leaving the organization well-positioned to achieve the goals of its ambitious strategic plan, Impact 2020. The top priority of the plan is to partner with 500 families on homeownership by 2020, more than doubling the program's impact. Haigh oversaw the creation of a $98M partnership with Bremer Bank, the largest partnership in Habitat history.
"It has been a delight and honor to work each day in partnership with families, volunteers, donors, neighborhoods, board members, and our exceptional staff team," said Haigh. "Our Habitat board, staff, and leadership teams have never been stronger, and the organization is in highly competent hands."
The Twin Cities Habitat Board of Directors has convened a search committee to lead a robust, national search for the next leader of the organization. The committee will engage a search firm to support the recruitment and hiring process.
"Twin Cities Habitat for Humanity is a sophisticated, $30M nonprofit with robust partnerships in the public and private sectors and a strong reputation for making a difference in the community," said Barry Mason, Twin Cities Habitat Board Chair and spokesman for the CEO search. "I am confident that many outstanding candidates will come forward with an interest in leading this organization."
A career committed to community
When Haigh joined Twin Cities Habitat in 2005, the organization had partnered with 500 families since the first home was built in 1985. Thirteen years later, a remarkable 1,200 families have bought homes with Habitat in 58 cities in our region. Haigh helped build significant organizational capacity; during her tenure, Habitat:
Guided a national rollout of the A Brush with Kindness paint and repair program that was started in the Twin Cities
Created a new advocacy program
Hosted the 2010 Jimmy & Rosalynn Carter Work Project, engaging 2,000 volunteers to build, rehab, and repair 26 homes alongside the former President
Launched a Neighborhood Revitalization program to expand partnerships in St. Paul's Frogtown and Minneapolis' Jordan neighborhoods
Executed two successful fundraising campaigns
Constructed its New Home for Habitat on University Avenue
Opened two ReStore Home Improvement Outlets
Formed the largest partnership in Habitat history with Bremer Bank
Established a wholly-owned subsidiary, TCHFH Lending, Inc. to originate affordable mortgages
Added Equity and Inclusion as a core value and committed to helping reduce the Twin Cities' racial disparities in homeownership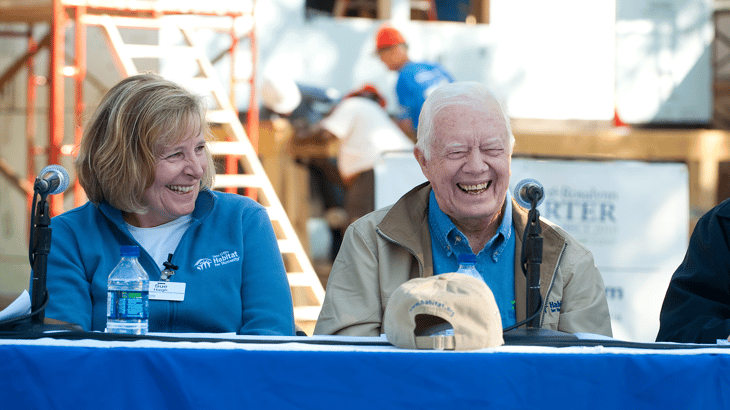 In addition to her leadership at Habitat, Haigh was appointed by Governor Mark Dayton as Chair of the Metropolitan Council from 2011 to 2015. During her time as Chair, the Council adopted a thirty-year regional plan, Thrive MSP 2040; initiated the first housing policy plan in the region in over 35 years; awarded more than $75M in transit-oriented development, Livable Community Act and brownfield clean-up grants to cities; and opened with its partners the following major transit improvements: Union Depot, Target Field Station, Red Line BRT in Dakota County and the Green Line LRT connecting St. Paul and Minneapolis.
Prior to joining Habitat, Haigh served ten years as a Ramsey County Commissioner, during which time she focused on improving the lives of people living in poverty and living with disabilities. She also worked on infrastructure planning and development.
Haigh spent several years as a county attorney, including twelve years as Chief Deputy Ramsey County Attorney.
Haigh currently serves on the Itasca Project and the Minnesota Advisory Board for The Trust for Public Land. She has also served on the Minnesota Housing Partnership Board, Habitat for Humanity U.S. Council, Sunrise Park Bank Board, The Friends of the St. Paul Public Library Board, Landmark Center Board, and the Macalester College Board of Trustees.
Haigh has a B.A. in Political Science from Macalester College and a J.D. from William Mitchell College of Law.
About the search for the next leader
The Twin Cities Habitat Board of Directors has convened a Search Committee, which has begun the search for the next President & Chief Executive Officer.
More information on the search, the position, and how to apply will be available in the coming weeks at tchabitat.org/CEOsearch.
The organization has a strong Executive Leadership Team behind the President & CEO, including:
Pam Wheelock, Chief Operating Officer
Cathy Lawrence, VP, Resource Development & Community Engagement
Casey Scott, Chief Financial and Administrative Officer
Robyn Bipes-Timm, VP, Loan Fund & Mortgage Lending; President, TCHFH Lending, Inc.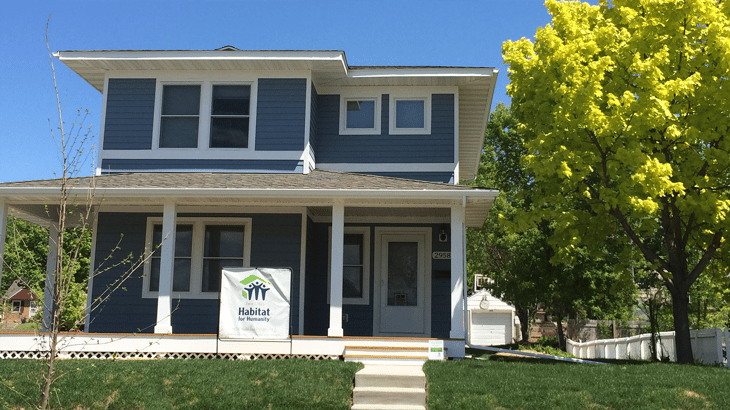 Impact 2020 : A strategic plan to double Habitat homeownership opportunities
Under Haigh's leadership, Twin Cities Habitat launched an innovative four-year strategic plan, Impact 2020. The primary objective of the plan is to more than double the number of homeownership opportunities available each year. In previous years, Habitat partnered with an average of 50 families per year on homeownership. The plan will more than double that volume, to create more than 100 homeownership opportunities annually and serve 500 families over four years.
Impact 2020 was catalyzed by a historic partnership with Bremer Bank, which committed to buy Twin Cities Habitat's mortgages at a below-market rate. The partnership is valued at more than $98 million. Philanthropic donations and public funding unlock the power of Bremer's partnership and make Habitat's mortgages affordable for families. Families pay their monthly fixed-interest mortgages to ensure more families can buy homes, too.
The strategic plan introduced new ways for families to achieve homeownership. In addition to buying homes built or rehabbed by Habitat, families now have the option to buy a home for sale on the open market using Habitat's affordable mortgage, originated by a new wholly-owned subsidiary, TCHFH Lending, Inc.
Habitat has also increased its income eligibility limit to serve buyers who lack other mortgage options. Now, a family of five earning as much as $73,450 may qualify to buy a home with Twin Cities Habitat. (See up-to-date Homeownership Program income guidelines.)
Other Impact 2020 strategic initiatives include opening additional ReStore Home Improvement Outlets, offering financial coaching to help families achieve mortgage-readiness, deepening the A Brush with Kindness paint and repair work, and piloting an Age in Place program for seniors.
Media Contact
For more information, or to set up an interview, please contact: Kaitlyn Dormer, Communications Manager, at 612-305-7123 or Kaitlyn.Dormer@tchabitat.org.
About Twin Cities Habitat for Humanity
Our mission is to eliminate poverty housing from the Twin Cities and to make safe, decent, affordable shelter for all people a matter of conscience. Twin Cities Habitat is committed to building the quality of life, health, and economic prosperity of the region by producing, preserving, and advocating for affordable homeownership – because homes and families are the foundation of successful communities. Since 1985, more than 1,200 families have partnered with Twin Cities Habitat to achieve homeownership, building stability that multiplies for generations. Twin Cities Habitat is recognized as an Affiliate of Distinction and is one of the highest-regarded Habitat for Humanity affiliates nationwide. www.tchabitat.org.