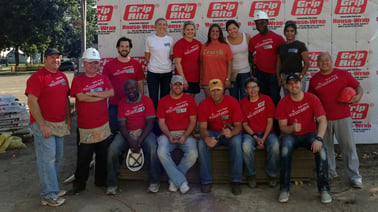 Wells Fargo has made a multi-year $1,280,000 commitment to Twin Cities Habitat for Humanity to create affordable homeownership opportunities for local families. The grant will support the construction of 16 homes over five years, building brighter futures for families who buy homes with Habitat.
"We're so grateful for Wells Fargo's long and strong partnership here in the Twin Cities," said Susan Haigh, President and CEO of Twin Cities Habitat for Humanity. "Wells Fargo's commitment makes affordable homeownership possible for families in our community, and that impact multiplies for generations."
Wells Fargo has been a corporate partner for Twin Cities Habitat since 1993. The $1.28M commitment includes a grant toward a Habitat home that will be built to commemorate the 25-year relationship.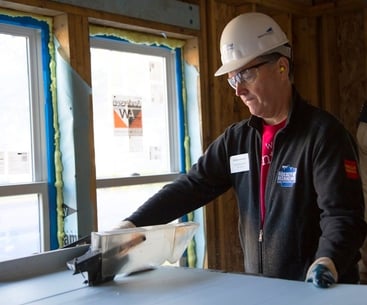 "We have a long history of working with Twin Cities Habitat for Humanity revitalizing local neighborhoods, building stronger diverse communities, and providing positive impact through public-private collaborations," said Dave Kvamme, Wells Fargo Minnesota CEO. "In addition to providing grants, our team members are very active and engaged volunteers who support their local communities by applying their time and talents where they live and work to create affordable and sustainable housing."
Since 1993, Wells Fargo has donated more than $4.8M to sponsor work on 160+ homes, this includes 38 full home sponsorships, 24 A Brush with Kindness paint and repair projects, and nine Women Build houses. Each year, more than 900 Wells Fargo team members volunteer with Twin Cities Habitat for Humanity.
Wells Fargo's commitment will contribute to Twin Cities Habitat's Impact 2020 strategic plan to more than double Habitat homeownership opportunities over the coming years.
Media Contacts
For more information, or to set up an interview, please contact:
Kaitlyn Dormer
Twin Cities Habitat for Humanity
612-305-7123
John Hobot
Wells Fargo
612-667-9650
About Twin Cities Habitat for Humanity
Our mission is to eliminate poverty housing from the Twin Cities and to make safe, decent, affordable shelter for all people a matter of conscience. Twin Cities Habitat is committed to building the quality of life, health, and economic prosperity of the region by producing, preserving and advocating for affordable homeownership – because homes and families are the foundation of successful communities. www.tchabitat.org.
About Wells Fargo
Wells Fargo & Company (NYSE:WFC) is a diversified, community-based financial services company with $1.9 trillion in assets. Wells Fargo's vision is to satisfy our customers' financial needs and help them succeed financially. Founded in 1852 and headquartered in San Francisco, Wells Fargo provides banking, insurance, investments, mortgage, and consumer and commercial finance through more than 8,400 locations, 13,000 ATMs, the internet (wellsfargo.com) and mobile banking, and has offices in 42 countries and territories to support customers who conduct business in the global economy. With approximately 268,000 team members, Wells Fargo serves one in three households in the United States. Wells Fargo & Company was ranked No. 25 on Fortune's 2017 rankings of America's largest corporations.