Jack Shea has volunteered with Twin Cities Habitat for Humanity for an incredible amount of time. For over 25 years, Jack helped build over 16 homes (his best guess), helped with the front desk here at Twin Cities Habitat, and now helps potential homeowners with the new intake process over the phone in the Program Information Center. "Our church started building in 1992," Jack said. Tres Iglesias, along with a small coalition of other churches, organize several build weeks each year. This partnership brings the community together in so many ways. Whether they're builders, organizers, or lunch crew members, they all work together to support affordable housing in the Twin Cities.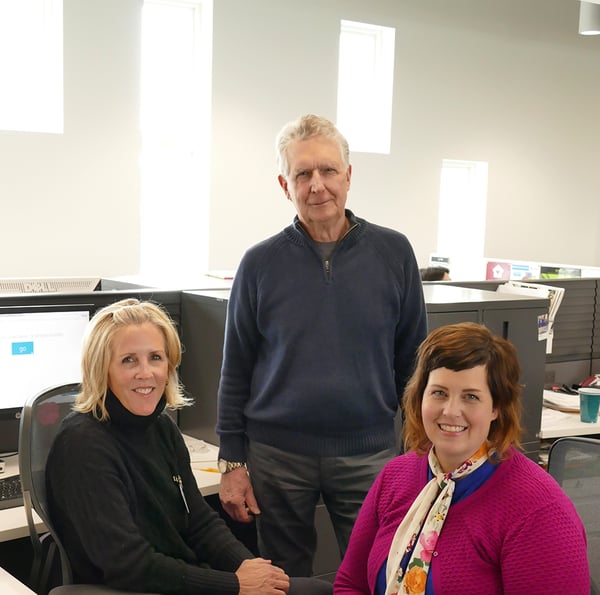 PHOTO: Jennifer/Volunteer (left), Jack/Volunteer (center), Cindy/Intake Associate (right)
As you can imagine, after 25 years of service, Jack has seen plenty of change here at Twin Cities Habitat. His service has benefited the community in so many ways, it's difficult to imagine. He's been here so long and knows so much, it's like the information flows out without hesitation. He's been here longer than most staff. He's the perfect go-to for information. Jack now volunteers in the Program Information Center two days a week and helps answer questions about the homeownership process. When Jack answers the phone, there's no one better to help you along the way. He's seen and heard it all. AND he's here to help anyone who calls.
Giving back and doing good is second nature to Jack and his family. He spent most of his professional career working for the Department of Natural Resources supporting forestry in the State of Minnesota. His wife (and Jack) were recruited by the Peace Corps years ago and served twice in West Africa for a total of five years. They even brought their 2 ½ year old son with them the second time around. Now 36, their son had to learn French while he attended the local African preschool. "I learned so much about other countries and the places I lived," Jack says about his experience. Perhaps it's ingrained into him, but Jack and his family have spent a lifetime giving back and helping others in need.
If an organization is as good as the people within it, then Twin Cities Habitat is the best. The multitude and diversity of experiences of each and every volunteer are truly special—from homebuilding to customer service. When you work with Twin Cities Habitat, you'll find that each step of the way you'll receive kindness and understanding. You'll also find Jack Shea, who is the epitome of who we all would like to be.