Laura Grevas began her involvement with Twin Cities Habitat serving as an AmeriCorps VISTA member in the Marketing and Communications department in 2011. Since then, she has helped build homes, served on the family selection committee, and attended dedications for new homeowners.
"I have been fortunate to engage with the Habitat mission in many ways, and I am still involved with Habitat because their mission of giving families a hand up really resonates with me," Laura shared. "So often as a donor or volunteer, I have felt that my contributions were not useful or unappreciated. I've never felt that way with Habitat!"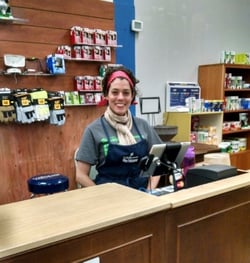 Laura added to her involvement with Habitat by becoming a cashier at the ReStore in September of last year. She regularly volunteers as a cashier one Saturday each month, and recalls how she felt when she first started helping out at the store:
"The ReStore staff was so welcoming and gracious, I immediately felt at home in my new role. I've even gotten slightly better at counting out change!"
Although Laura says she became a volunteer cashier "on a whim", she notes that the ReStore has become one of her favorite volunteer gigs.
"I love talking with the shoppers and learning all about the projects they're working on. Some folks are looking for a really specific item, but others are regulars, stopping in every week to fill their cart with random treasures. As a new homeowner, I occasionally pick up random treasures myself - With the ReStore's prices you can't go wrong!"
Laura's favorite moment from volunteering at the ReStore involved a shopper who purchased at least 25 acrylic towel bars just for the heck of it, assuring Laura that she'd find a use for them. With the ever-changing inventory, and new shoppers and donors to work with each and every day, Laura summed it up by saying:
"There is never a dull moment at the ReStore!"