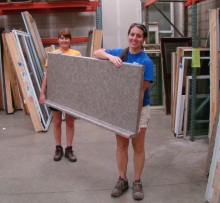 If volunteering on one of our construction sites isn't your thing we encourage you to help out at the Twin Cities Habitat ReStore. Our staff and volunteers accept donations of new and gently used items. We sell those items to DIYers and bargain shoppers alike with all proceeds going toward building more homes for area families in need. Ultimately we provide a more affordable avenue for home improvement projects, all while keeping tons of perfectly good items from ending up in the landfill.
We depend on enthusiastic volunteers for everything from helping customers to arranging merchandise. Whether you enjoy interacting with the public or prefer tinkering behind the scenes, chances are that we have a volunteer opportunity for you.
Currently we are looking for people to serve as help desk volunteers. This role works with the ReStore staff and other volunteers in the operation and flow of the store. This position is mostly seated at the Check-out desk and stays busy with answering phone calls, showing good customer service and directing shoppers in the store and on the phone.
We are also recruiting donations receiving assistants to pick up various donations from businesses and individuals throughout the metro area. Responsibilities include riding along with a staff member, helping loading the truck, unloading at the ReStore, and tracking donations. If you are interested in either of these opportunities or want to learn more visit new online volunteer scheduling tool.
Meet Wendy ReStore Volunteer - Cashier/Organizer
In both roles Wendy's positive attitude and amazing work ethic make her invaluable to the ReStore. We can always count on her to get the job done!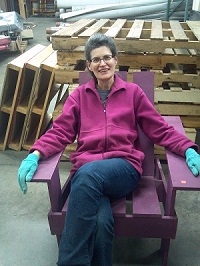 Background: Wendy holds degrees in Graphic Arts and Interior Design/Sales from St. Cloud State University and Dakota Technical College. She was in the retail/design field before marriage and was a homemaker for many years. She was also a waitress along the way and is now looking at getting back into the retail/design field. She has also owned her own wall cover business, but missed working with others.
Why the TCHFH ReStore? She believes in Habitat for Humanity's mission, and it helps her to build experience in the industry. She says, "I love the people, and the employees. It's different [from other stores] when we are working for such a great cause."