A few months ago, ReStore volunteer Calvin Peterson had a hip replacement. But when we found him at the shop for the Monday morning reset, he was lying on the ground stabilizing a new display of nuts and bolts.
That's the thing you quickly learn about this retired carpenter, he's not one to sit idle.
Calvin has been volunteering every other Monday for the past year to reorganize, restock and otherwise fix what needs fixing at the Twin Cities Habitat for Humanity ReStore. Before that, he helped on a few of our A Brush with Kindness projects.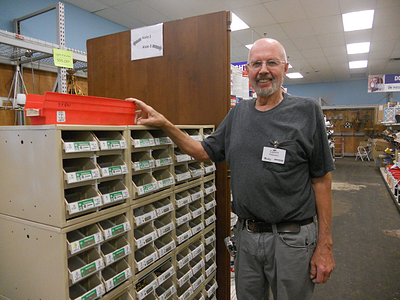 "You've got to be busy," Calvin said. "Just sitting around is not good for anybody."
He's certainly been busy at ReStore! His completed project list includes fixing the outdoor ReStore sign, building display racks for doors, installing a new sink and counter in the women's bathroom, constructing the kids' play area, building the shopping cart rack, erecting warehouse shelving and creating the cabinet display racks. And that's only the projects he can recall off the top of his head.
Despite his obvious skill as a craftsman, Calvin is modest about his handyman skills.
"Well, I can figure out a way to make it work," he said of his skills. It's the element of creative problem solving that he loves best about his work.
Helping at the ReStore has been a lot of fun, Calvin said, especially because he can use his carpentry skills for a good cause.
But you don't have to be a skilled carpenter to make a difference at ReStore, anyone can lend a much-needed helping hand. Volunteers of all sorts are the fuel and soul of the ReStore. The shop is looking for volunteers to help out 10 a.m. to 2 p.m. on Mondays, 10 a.m. to 2 p.m. and/or 2 p.m. to 6 p.m. Tuesdays through Fridays, and Saturdays from 10 a.m. to 1 p.m. and/or 1 p.m. to 4 p.m.
Here's what ReStore Volunteer Coordinator Alicia Weagel had to say about how you can get involved:
Mondays are great for those who are more crafty individuals. Since the store is closed Mondays, that's when most of the building, power tool use and longer projects take place.
Tuesdays are a great day for people who would like to help put product away, work at the donation door or help lift a lot of heavy things coming and going out of the store.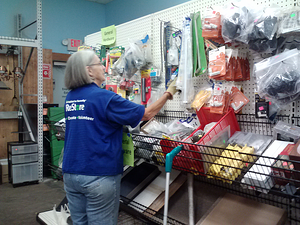 Wednesdays can be quiet, but can also be busy, so we usually need help with lifting, but also with doing projects and working at the donation door.
Thursdays again, can be quiet, but aren't always. This is the best day we have during the week to get the store looking nice and organized, and could use more volunteers to help with that.
Fridays are busy the first half of the day, while generally dying down in the afternoon, so there is the opportunity to work on special projects on Friday as well.
Saturdays we need to most help. We are short staffed, and it is our busiest day of the week! If you like to stay active and have a fast paced day, Saturday is the day of you.
Not a crafty handyman or worried about the heavy lifting? No problem. There's always some sorting, organizing or other light work to help with. So whether you are a retired carpenter like Calvin or just someone who'd like to lend a helping hand, there will always be a place for you at the ReStore!