Guest Post by Zach Surber
Twin Cities Habitat AmeriCorps Member
When talking about homebuilding, it's important to remember the lasting impact we have on our community. Habitat has built and sold well over 1,100 homes in the Twin Cities in the last 30 years. As builders, lenders, and volunteers, we have to be sure that our impact is always positive for the people who partner with us.

Habitat is committed to both economic and environmental sustainability. Homebuyer families are given 20+ hours of homeowner training and post-purchase support to ensure that they will be successful homeowners. This, along with our affordable mortgages, means that Habitat families have a foreclosure rate well under 1%. Foreclosures are further prevented by Habitat through our Mortgage Foreclosure Prevention service, where our coaches find financially responsible solutions for Minneapolis residents facing a foreclosure. Each foreclosure costs the community $78,000 through extra costs and loss of taxes, which means that preserving sustainable homeownership is as important as creating it.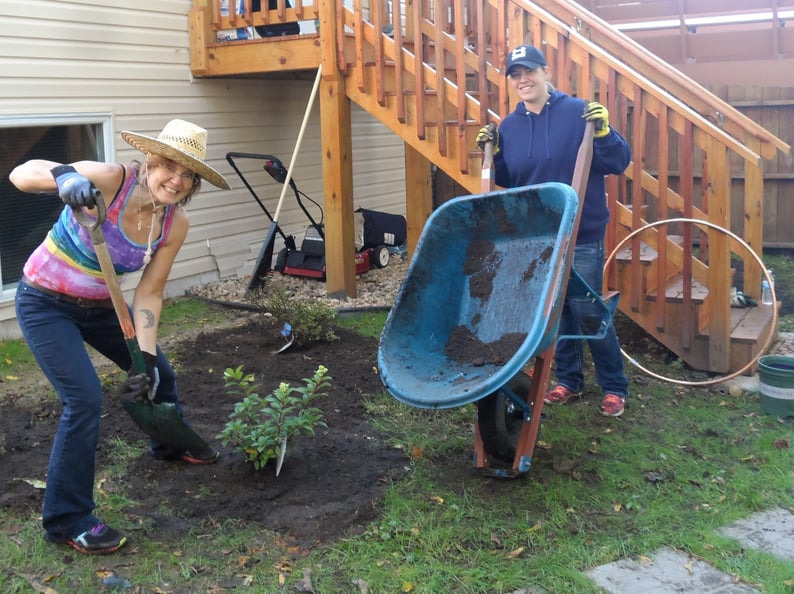 Twin Cities Habitat has a long record of leadership in green building. Sustainable building is better for the environment, our homebuyers (who save money on utilities), our community, and Twin Cities Habitat, as an organization, because it forces us to work efficiently in everything we do.
"Because of our unique mission, we're able to explore ideas that for-profit builders would pass on because it wouldn't immediately help their bottom line," said Sue Haigh, Twin Cities Habitat President and CEO, about an innovative partnership with the University of Minnesota focused on building efficiency and sustainability. "If we can figure out a way to implement additional energy efficiency in our homebuilding process in a cost-efficient way that utilizes volunteers, then professional builders should be able to replicate it. That feeds our ultimate mission of eliminating poverty housing from our community."
The Twin Cities Habitat ReStore is another huge part of our commitment to a sustainable community. Results at the New Brighton store point to the success of our environmental commitment. For instance, by reselling unneeded building materials, the New Brighton store keeps 692 tons of waste from entering the waste stream each year. In addition, over the past three and a half years, the New Brighton ReStore has recycled 526 tons of metal and other wastes salvaged from broken fixtures, hardware, and lighting that ReStore volunteers break down for recycling.
Economic and environmental sustainability are two of the biggest motivators for our volunteers. This long term positive impact on our community means that our most committed volunteers know that they are making a legacy for themselves that will benefit many generations to come. Our regular crew volunteers make up only a small part of our total volunteers, but account for 25% of all labor done. That's an astounding amount of work, but it's all part of how Habitat changes lives today and for years to come.