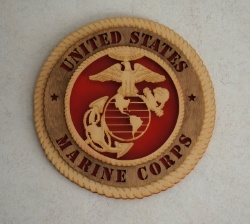 Over the past few years, Twin Cities Habitat for Humanity (TCHFH) has worked with The Home Depot Foundation and Team Depot, the company's associate-led volunteer force, to help provide homeownership opportunities and home repair assistance for veterans of the U. S. military who qualify. The Home Depot Foundation originally awarded Twin Cities Habitat a grant of $200,000 in 2014, as part of its nationwide commitment to improving the homes and lives of U.S. military veterans an their families. This past year, The Home Depot Foundation awarded an additional $86,250 to Twin Cities Habitat, for continued support of TCHFH's Veterans Initiative. The most recent example of this partnership at work occurred just last week on Bonnie's home in Rockford, MN.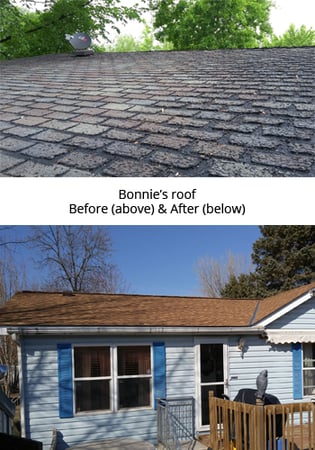 Bonnie is a senior citizen and a veteran of the U. S. Marine Corps (USMC). She joined the USMC and started training at Parris Island when she was 18 years old. From there, she was stationed at El Toro Air Base and was later transferred to Camp Pendleton, where she worked in Supplies and Admit. After her time in the service, Bonnie worked as a nurse's aide in Fargo, and with support from the G.I. Bill, attended college and obtained her degree in Law Enforcement. She then served as a part-time deputy sheriff in southern Minnesota, and also worked in security and health care before she retired.
"As a Marine, you have to have a certain work ethic," Bonnie said, proudly. "You can always count on us to do what needs to get done!"
Three years ago, the roof on Bonnie's home began to leak, and eventually caused additional damage to the interior. Due to Bonnie's limited income, she couldn't afford to hire a contractor to perform the repair work, and she wasn't able to complete the repairs on her own. Bonnie began searching for local assistance programs and was eventually directed to Twin Cities Habitat for Humanity. Thanks to the support from The Home Depot Foundation, Twin Cities Habitat was able to conduct a home assessment and approve Bonnie's request for a roof replacement and interior repairs. When he arrived on site, Site Supervisor Doug Hayden also noticed that the wood used on Bonnie's front deck and ramp to access her front door had started to rot, making the boards move and bounce when people used them, and creating a safety hazard. Doug made the decision to add this task to the list of necessary repairs for the week.
Once her roof was repaired, volunteers from Team Depot came out to finish the last of the repairs needed on Bonnie's home.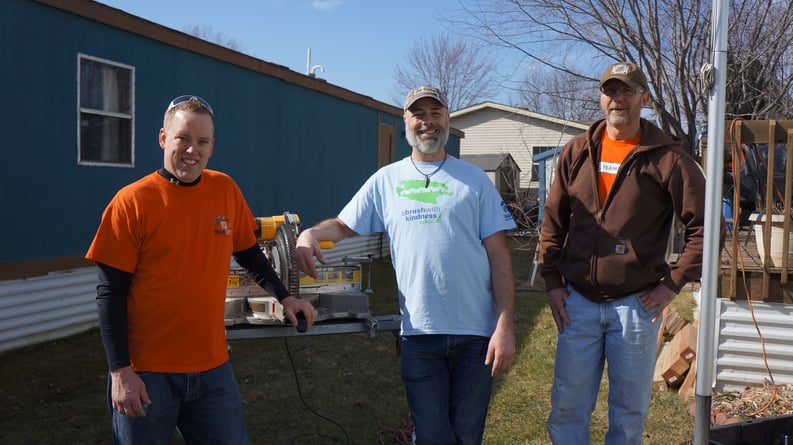 "We're always looking for ways to get out and give back in our community," said Chad Olson, Assistant Manager at The Home Depot store in Plymouth, who helped to recruit volunteers. "It's really great that Home Depot allows us the time to come out and help, and has such a great partnership with Habitat."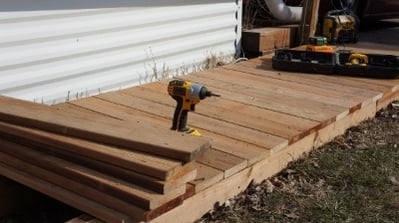 Chad and several other members from The Home Depot store in Plymouth helped with prepping, painting, and replacing damaged sheetrock in Bonnie's home. On the last day of the project, they went to work removing the rotted boards on Bonnie's deck and replaced the ramp that provided access to her front door.
"Bonnie has been great," Chad shared. "It makes the work so much more meaningful when you actually get to meet the people you're helping, and it has been a great experience for her to get to know us as well."
"The staff and volunteers have been so good to me!" Bonnie said. "This help has truly been a godsend for me. They've been here every morning bright and early, and have helped me in the most wonderful way."
Since the original grant was awarded, three veterans have become Habitat homeowners, and 23 low-income veteran families have received help with home repairs due the support from The Home Depot Foundation and Team Depot volunteers. An additional home build and eight repair projects are planned over the next several months.
Thank you to The Home Depot Foundation and Team Depot volunteers for your continued commitment to Habitat's work with local veterans!