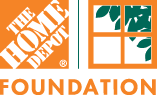 The Home Depot Foundation is serious about helping America's Veterans get, and keep, decent, affordable housing. That commitment drove the foundation to provide Twin Cities Habitat for Humanity with a $200,000 grant for work targeting Twin Cities Veterans in need of some help.

This grant was awarded as part of the latest round of grants from The Home Depot Foundation – totaling $3.9 million – in support of its five-year, $80 million commitment to ensure every Veteran has a safe place to call home. Since launching its commitment in the spring of 2011, The Home Depot Foundation has contributed $65.7 million to the issue, impacting more than 10,195 units of Veterans housing.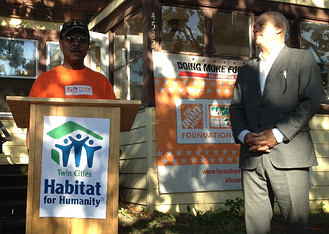 Here in the Twin Cities, the money from the grant will go toward helping two Veterans families buy homes affordably through Habitat's homeownership program and, in addition, making critically needed repairs for 20 other Veteran homeowners.
As part of the grant, volunteers from The Home Depot will help paint the home of a Retired Army Veteran in St. Paul during the National Day of Service on Thursday, September 11.
"Too many Veterans are struggling to get by -- more than one in five modern-day Veterans in Minnesota cannot find work. In 2012, Twin Cities Habitat launched its Veterans Initiative to help provide former service members with decent, affordable homes for themselves and their families. With this generous grant from The Home Depot Foundation we can take the program to the next level, offering more Veterans affordable and safe homes," said Sue Haigh, president of Twin Cities Habitat for Humanity.


The 15 repair projects that can be sponsored with this money will be completed through Twin Cities Habitat's A Brush with Kindness program which uses volunteers to provide repairs, painting and safety/accessibility fixes in partnership with low-income homeowners.
"Our goal is to partner with Veterans to stabilize their housing situations, honor their service, and connect them with the resources they need to be successful," said Alex Schueller, Veteran Outreach Coordinator at Twin Cities Habitat.
In Minneapolis/St. Paul, The Home Depot Foundation has donated nearly $650,000 to18 nonprofit organizations. These funds have been used to provide more than 100 units of safe, affordable housing to local Veterans.
"We know that too many Veterans struggle with issues related to housing: nearly 60,000 U.S. Veterans are homeless on any given night, and women Veterans, many of whom have children, are the fastest-growing segment of this homeless population; several million others live with a service-connected disability," said Fred Wacker, director and chief operating officer of The Home Depot Foundation. "As we work toward our mission of ensuring every Veteran has a safe place to call home, we are committed to addressing Veterans' needs at every point on the housing continuum. Our support of Twin Cities Habitat for Humanity is an important part of changing the statistics for area Veterans."
For more about The Home Depot Foundation's efforts to address Veterans' housing needs, follow The Home Depot Foundation on Twitter @homedepotfdn, #TeamDepot, like on Facebook at www.facebook.com/homedepotfoundation or visit www.homedepotfoundation.org.