No matter how you measure it—it's amazing! Retirees from 3M have been volunteering and giving money to support Twin Cities Habitat's mission and Twin Cities Habitat families for 20 years now. They do it through the 3Mgives Habitat Project and their impact has been immense.
Because it's 3M, they're really good at tracking the numbers; 522 people have volunteered a total of 41,372 days over the past 20 years. That's 165 years of free labor! They've worked on more than 170 different Habitat homes. On behalf of all the families that bought those homes with affordable Habitat mortgages—THANK YOU!
This year, as is often the case, Twin Cities Habitat's top five construction volunteers are all part of 3Mgives.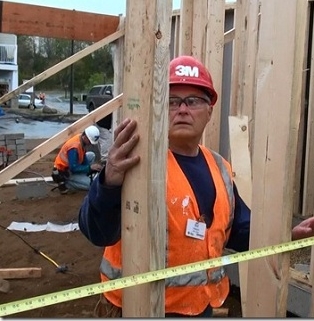 Here are the top five:
Rodger Pereyra – 86 days of volunteering
Jim Selchow – 90 days
Lou Cristan – 94 days
Tom Malone – 99 days
Jim Ramberg – 119 days
Not only do the men and women of 3Mgives show up to swing hammers (and have plenty of fun), but they also give money generously, having donated more than $2.7 million dollars to Twin Cities Habitat over the past two decades. On top of that, 3M honors its employees and retirees who volunteer enough hours each year with $250 gifts to the charity of their choice. That's added up to nearly $200,000 in additional funding for Twin Cities Habitat's mission.
This year, the 3Mgives volunteers have been working on Habitat homes in Hugo and St. Paul. Current 3M employees have also been volunteering around the metro, including helping get the new South Minneapolis ReStore ready for its grand opening September 15-17.
Construction Site Supervisors like working with the 3Mgives volunteers because they can be counted on to show up in big numbers, do the job right, and have some fun along the way.
On August 11, Lou Cristan, who manages the 3Mgives Habitat Project, spoke during a luncheon at the 3M campus honoring the volunteers. He pointed out how some things have changed at Habitat over the years, but what hasn't changed is the commitment level of the volunteers and the amount of love they bring to work sites with them.
Along with helping build Habitat homes, volunteers connected to 3M have served on Twin Cities Habitat's Board of Directors and regularly participate in advocacy events.
During the luncheon on August 11, Ann Norberg was recognized with 3M's Global Volunteer Award. After a 19-year career with 3M, Ann has been a regular Twin Cities Habitat volunteer for the past five years.
"Ann is a delight to have as a volunteer at Twin Cities Habitat events and on the 3Mgives Habitat team as she expects nothing but gives willingly," says Sue Haigh, President and CEO of Twin Cities Habitat.
The 3Mgives Habitat Project is always recruiting and four new members joined their ranks this year. Volunteering with Twin Cities Habitat is a great way for retirees to stay active, connect with friends, and build a meaningful legacy that multiplies with each generation of children who grow up in a Habitat home.